Many investors have been justifying high stock valuations on low interest rates, and now they are starting to squirm as interest rates move higher. While rising interest rates may provide a headwind for some highly valued stocks, I don't see it as a nail in the coffin for the market as a whole. In fact, if we look back historically, over the last 30 years, what we find is that stocks have moved up along with rising long term interest rates – in every instance. And that's is because they are responding to the same thing, better economic conditions.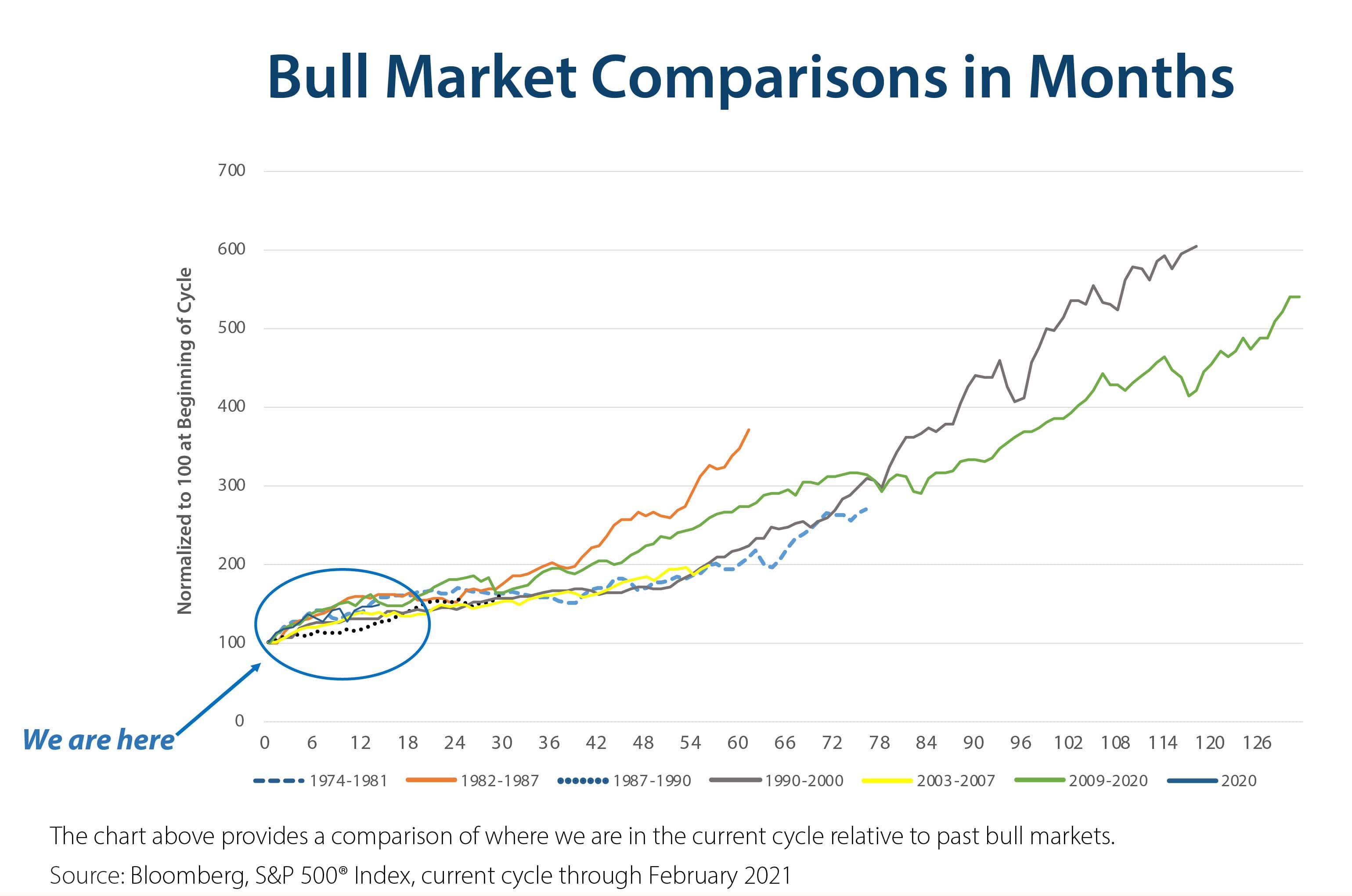 The backdrop for stocks is very positive, with a very accommodative Fed that is likely to remain so for years to come, massive fiscal stimulus on a scale that we've not seen in our lifetime, an economy that is quickly rebounding from the pandemic, and consumers and businesses are flush with cash, have pent up demand, and they're are ready to spend it.
This positive backdrop is why, when the market gets punched it keeps getting back up and moving higher. Now all that said there's a few things to consider.
First is how top heavy the index is with a significant portion of the S&P 500's weight sitting in the top few names.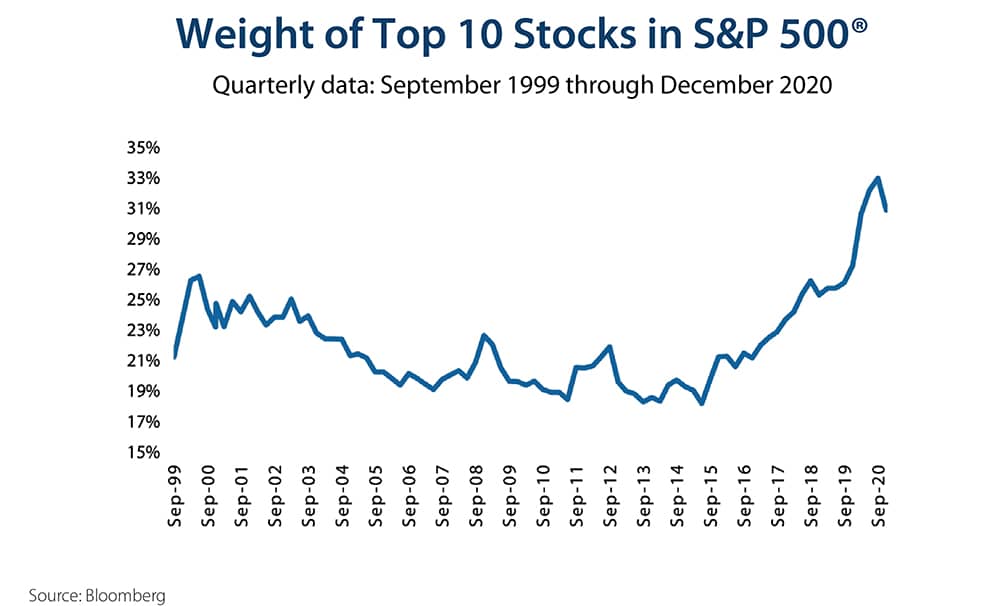 This means that the index itself is less diversified and broad market measures such as valuation are also being distorted by these names. Many of these big weights in the index have been pandemic winners, as such they're less likely to be recipients of all that pent up demand – that money is going elsewhere.
Second is that the market has had a very strong run – as would be expected given the market is forward looking, but it also means that the market has anticipated a lot of the good news. That suggests that earnings need to catch up. And this is normal for a recovery, generally P/E multiples contract in an economic rebound as earnings outgrows price. For example, this earnings season we just came through, was really strong with big earnings beats and raises, and yet the stock response was quite muted. This is not a reason to get negative on the market, I only want to create some perspective that the gains from here may not be as incredible going forward, as what we've just experienced.
And then lastly, I believe the ability to source alpha is going to get more difficult. For the longest time all you had to do was own large cap growth stocks.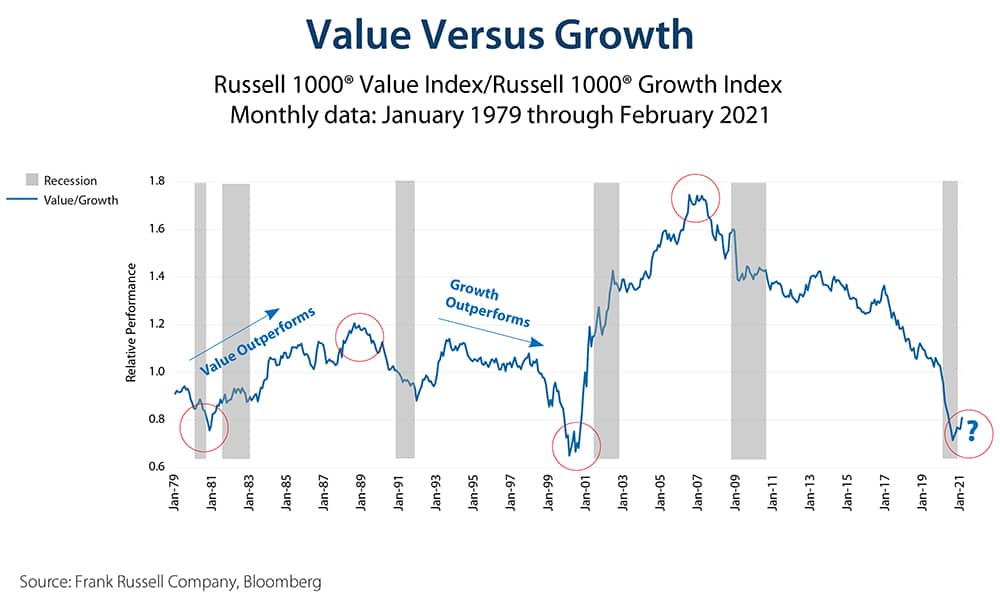 Now we have been getting into a rotation into smaller caps, cyclicals, and value stocks. The market has been moving in anticipation of a recovery. Now that the recovery is upon us we are going to go through a sorting process. We are going to determine which stocks actually deserved to go up and whether there may have been some left behind that should have been rewarded. I expect the market rotation towards more cyclical stocks and down in market cap is likely to continue, because that is where the earnings will be in the near term, but then it gets more difficult – the alpha is likely to become less broad brushed and more company specific as the fundamental drivers change as we move beyond this crisis.
---
This commentary is for informational purposes only and should not be used or construed as an offer to sell, a solicitation of an offer to buy or a recommendation to buy, sell or hold any security. Investing in an index is not possible. Investing involves risk, including the possible loss of principal and fluctuation of value. Past performance is no guarantee of future results.
Please consider the investment objectives, risks, charges and expenses of a Fund carefully before investing. The prospectus and the summary prospectus contain this and other information about the Funds. To obtain a prospectus or a summary prospectus, contact your financial professional or download and/or request one at TouchstoneInvestments.com/literature-center or call Touchstone at 800.638.8194. Please read the prospectus and/or summary prospectus carefully before investing.

Touchstone Funds are distributed by Touchstone Securities, Inc.*
*A registered broker-dealer and member FINRA/SIPC.
Touchstone is a member of Western & Southern Financial Group
©2021, Touchstone Securities, Inc.