For the longest time, there just hasn't been that much interest in what long term Treasury bonds are doing. But now it seems it's all that anyone wants to talk about. The 10 year Treasury bond bottomed out last August with a yield of 50 basis points. As I record this In the middle of March we are looking at a yield of about 1.6%, 1.7%, so a significant rise in yield more than a percent. Yet on an absolute basis this yield is quite low in a historical context, and today it looks low given the growth expectations for our economy.

A recent survey of fund managers by Bank of America indicated that higher inflation and higher interest rates were their number 1 and number 2 concerns. With respect to both of these concerns I see good news and bad news. The bad news is that longer term treasury rates are probably heading higher. The good news is that they will rise because our economy can support higher rates.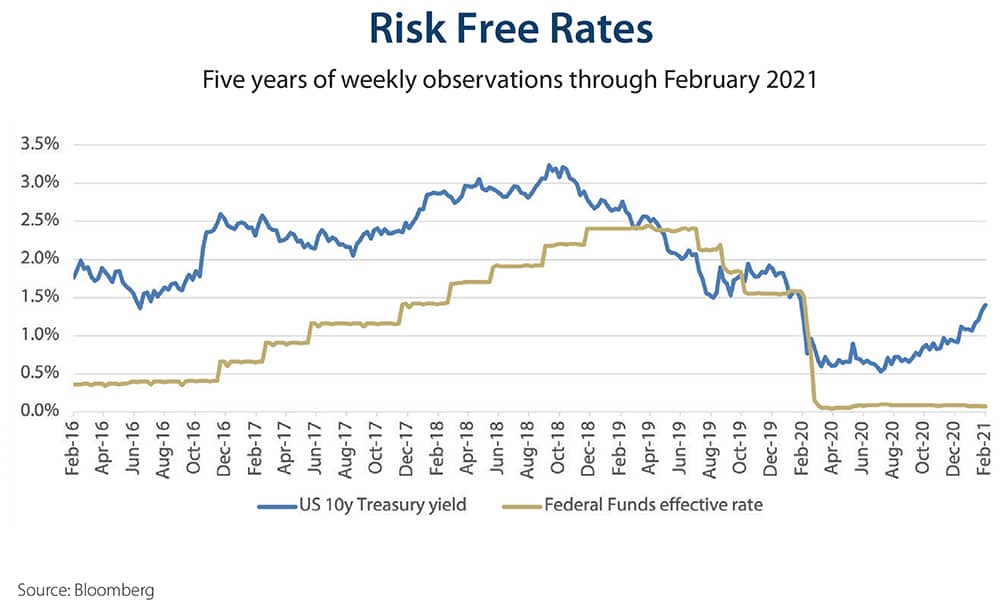 Over the last economic expansion the 10 year Treasury yield averaged 2.4%. at the same time real GDP averaged 2.1% and inflation was running just below 2%. Over the next two years GDP is expected to be really strong – we could see 6%+ growth this year and something north of 3% next year – so very supportive of higher rates.
So does that strong growth translate into runaway inflation? I don't think so. Yes, over the next few months the rate of inflation is likely to move higher; first because we will be lapping easy comparisons and then secondly because of potential pricing pressures - assuming that demand outstrips supply. But that should prove to be a temporary phenomenon and supply and demand will come back into balance. For a secular rise in inflation we need to see wages rise. It's hard to pass through price increases if consumers don't have more money to spend. One of the things this crisis has taught us is how to do more with less labor; how to transact business with less human contact. In the last expansion it took 10 years to heal the labor market – I'm not suggesting it will take that long this time, but it will still take years.
In terms of positioning within fixed income, right now I'm still suggesting maintaining a lower than benchmark duration. But as interest rates rise on the long end, I'm going to be recommending that you begin to add duration to get some additional yield. The other way to pick up yield is through credit exposure. Credit spreads have become very tight for below investment grade securities, so it's hard to suggest further gains from spread tightening.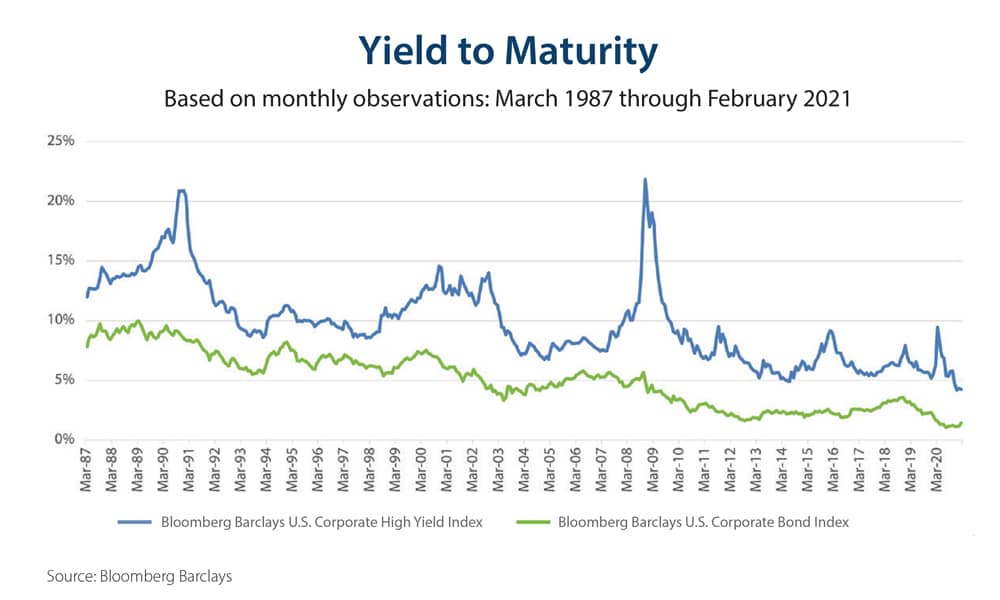 But, lower rated bonds still deliver a lot more yield than higher rated bonds and with default risks coming down and as the economy recovers that suggests that one should be able to outperform with additional lower quality credit exposure. Admittedly, with rates this low and spreads this tight, it is a tough backdrop for fixed income investors. It's the hand that we've been dealt.
---
This commentary is for informational purposes only and should not be used or construed as an offer to sell, a solicitation of an offer to buy or a recommendation to buy, sell or hold any security. Investing in an index is not possible. Investing involves risk, including the possible loss of principal and fluctuation of value. Past performance is no guarantee of future results.
Please consider the investment objectives, risks, charges and expenses of a Fund carefully before investing. The prospectus and the summary prospectus contain this and other information about the Funds. To obtain a prospectus or a summary prospectus, contact your financial professional or download and/or request one at TouchstoneInvestments.com/literature-center or call Touchstone at 800.638.8194. Please read the prospectus and/or summary prospectus carefully before investing.

Touchstone Funds are distributed by Touchstone Securities, Inc.*
*A registered broker-dealer and member FINRA/SIPC.
Touchstone is a member of Western & Southern Financial Group
©2021, Touchstone Securities, Inc.