You are entering retirement or are already retired.
You may have resources — such as pension distributions, retirement accounts or brokerage accounts — that you wish to convert into an income stream.¹
You are concerned about outliving your income and savings.
You value a guaranteed source of income in retirement.
You want to select among various payout options at the time of purchase.
You seek freedom from having to manage your savings to generate income.
You wish to provide income for your spouse² or beneficiaries.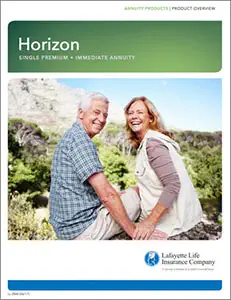 What You Need to Know About Horizon Single Premium Immediate Annuity 
Let's Team Up for Success