But bear markets do spell opportunity. And where valuations allow we are becoming more opportunistic. We titled our 2023 Investment Letter "Preparing for Opportunities to Knock", as we expect buying opportunities to develop.
Actually opportunities have already started knocking, we just think more will come. As interest rates rose we added to interest rate risk by moving out duration and are now overweight duration – after a major sell off in fixed income we are finding attractive yields – something we haven't seen in more than a decade.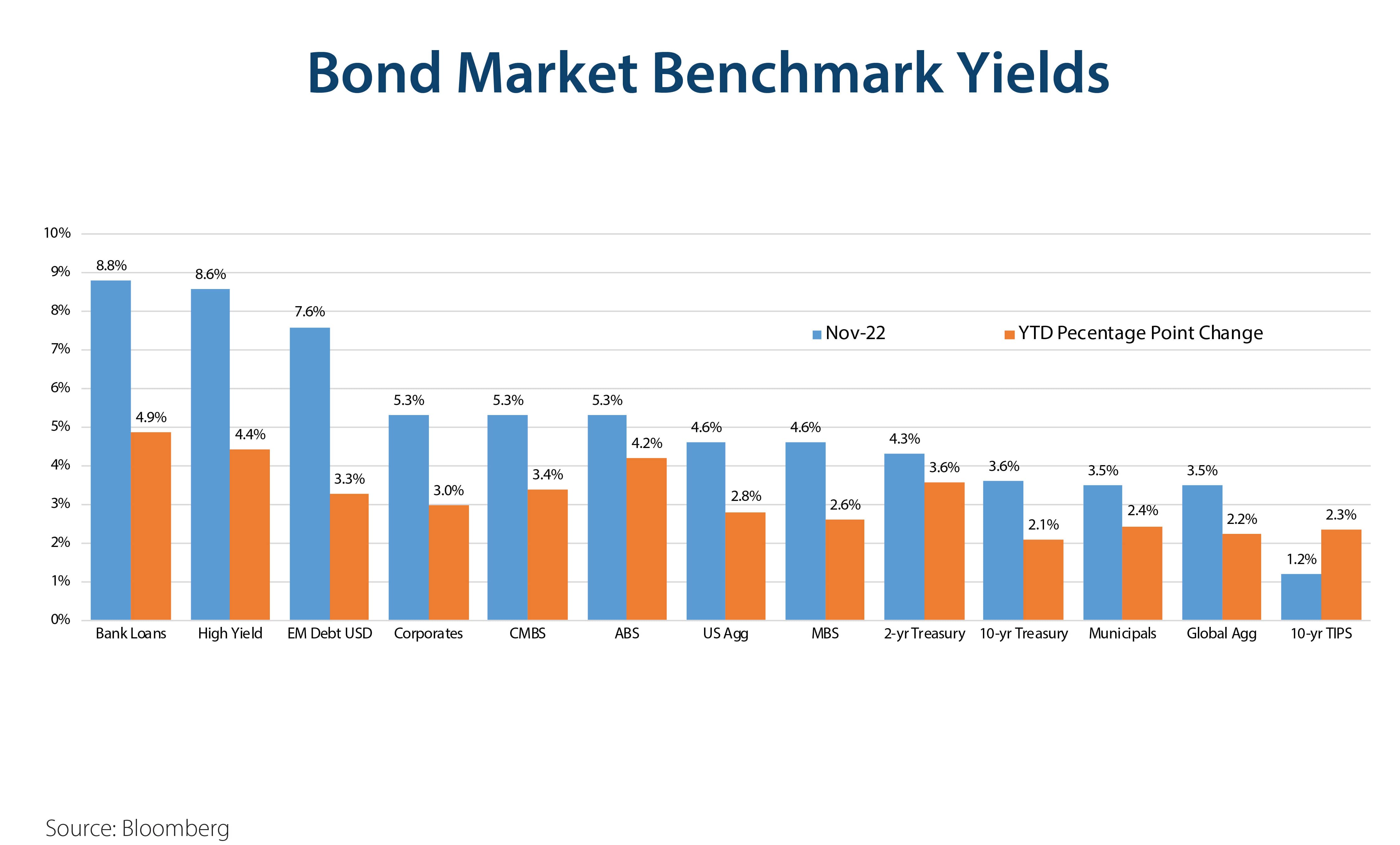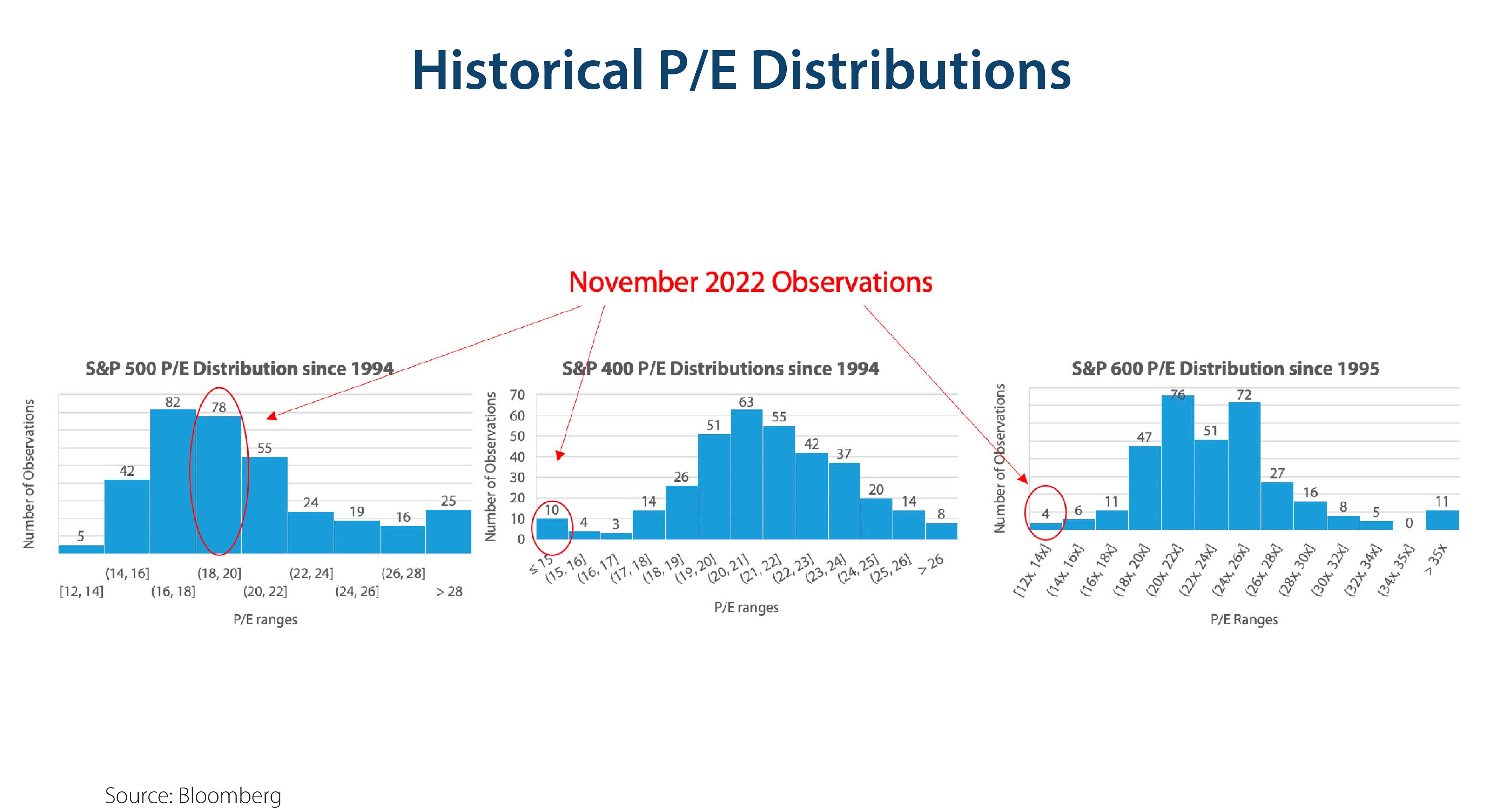 Small and Mid-Cap stocks are the cheapest they have ever been on a P/E basis using the S&P indexes. We see plenty of opportunity there. And emerging markets, after a meaningful drop and with a lot of bad news coming out of China, they are looking much more attractive from a valuation perspective and now with China beginning to relax their zero COVID policy, we had the catalyst that we used to move to an overweight.
Now all that said we still have some rough roads ahead. The global economy is slowing and many countries are likely to fall into a recession including our own. Some parts of the market haven't adjusted to this backdrop. The S&P 500 has moved down in price, but is nowhere near past bear market lows. We believe there can be more room for market dislocation where earnings expectations appear out of line with deteriorating economic growth. International developed equities look interesting on a valuation basis, but there is still a lot of fundamental risk as their central banks are in a bind trying to fight higher food and energy prices with higher interest rates. And then with regards to credit, below investment grade credit spreads remain below the historical average.
So we are seeing some opportunities right now, but believe more will come during 2023.
For more of our market thoughts, please look for our Investment Letter at
touchstoneinvestments.com
---
The information provided represents Touchstone's views and observations regarding past and current market conditions and investor behaviors. The information and statements provided herein are believed to be true and accurate. There can be no assurance however that the beliefs expressed herein will be consistent with future market conditions and investor behaviors.

Investing in Equities is subject to market volatility and loss. International and Emerging Markets equities also carry the associated risks of economic and political instability, market liquidity, currency volatility and differences in accounting standards. The risks associated with investing in international markets are magnified in Emerging Markets. Fixed Income/Debt securities can lose their value as interest rates rise and are subject to credit risk which is the risk of deterioration in the financial condition of an issuer and/or general economic conditions that can cause the issuer to not make timely payments of principal and interest also causing the securities to decline in value and an investor can lose principal. Performance data quoted represents past performance, which is no guarantee of future results.

Please consider the investment objectives, risks, charges and expenses of the fund carefully before investing. The prospectus and the summary prospectus contain this and other information about the Fund. To obtain a prospectus or a summary prospectus, contact your financial professional or download and/or request one on the resources section or call Touchstone at 800-638-8194. Please read the prospectus and/or summary prospectus carefully before investing.
Touchstone Funds are distributed by Touchstone Securities, Inc.*
*A registered broker-dealer and member FINRA and SIPC
Touchstone is a member of Western & Southern Financial Group
Not FDIC Insured | No Bank Guarantee | May Lose Value