Differentiating With Active Management
Touchstone actively applies a rigorous, multi-faceted and fully integrated process to identify, evaluate and partner with the institutional asset managers who serve as
sub-advisers
of its mutual funds and ETFs. Intensive evaluation is conducted with respect to these five vital areas of proficiency.
Touchstone's Proprietary Model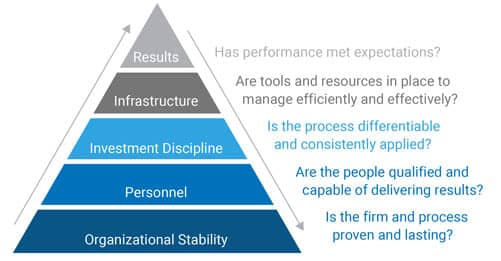 Organizational Stability: This step focuses on the sustainability of the firm as well as the specific investment strategy.
Personnel: Touchstone concentrates on qualifications such as education, experience, credentials, structure and compensation of the team.
Investment Discipline: Touchstone looks for companies that demonstrate a consistent and repeatable investment process including evaluating the asset manager's investment philosophy, selection process, and sell discipline.
Infrastructure: An asset manager's administrative and operational capacity is key to the accurate and efficient application of a firm's investment discipline.
Results: Performance results are the capstone of the Touchstone due diligence process.
This meticulous and thorough approach is designed to ensure that we deliver on our commitment of providing access to institutional asset management with the goal of achieving competitive long-term results.