International Developed (EAFE) vs. U.S.
Investing in developed international stocks has historically provided investors with:
Diversification: portfolios that included international stocks have historically produced higher risk-adjusted returns (Flavin and Panopoulou).
Opportunity: 76% of publicly traded companies are not U.S.-based (Source: MSCI) and 43% of the global market cap resides outside of the U.S. (Source: Bloomberg). Why limit equity exposure to just a fraction of the total market opportunity set?
But why now...
Conclusion: We moved to an EAFE underweight at the start of Russia's invasion of Ukraine. While relative valuation remains attractive, we see risk to relative earnings prospects as well as a stronger dollar. We also think that the sanctions against Russia will remain in place for an extended period. We believe that the U.S. economy and markets are more insulated from reduced trade with Russia and higher commodity prices. A quick resolution to the war and sanctions, something we don't anticipate, would likely lead to an upgrade.

Relative Valuation
Relative valuation in a historical perspective clearly favors EAFE, and versus its own history EAFE looks fairly valued. For the active manager, we believe there may still be opportunities to uncover, but we also recognize that the risk profile has also increased, partly offsetting the valuation differential.
Relative Valuation Measures
Based on the MSCI EAFE® Index/S&P 500® Index as of February 2022
RANK 1-5

*

Price/Cash Flow
1
EV/EBITDA
1
Price/Sales
1
Price/Trailing 10 Year EPS
1
Forward P/E
1
Summary Signal (Average)
1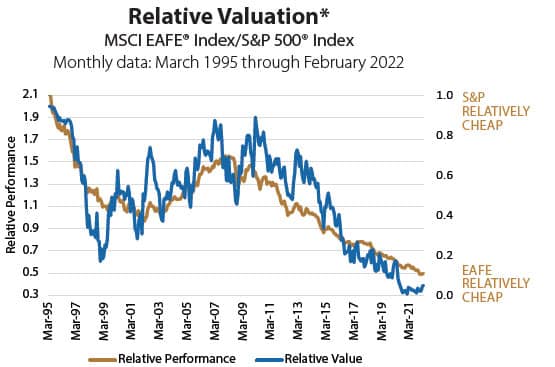 *Average of the five relative valuation measures
Sources: Bloomberg, MSCI
Relative Earnings Prospects
Relative price performance and relative earnings growth have historically followed a similar path. Relative earnings growth since mid-2008 has favored the S&P 500® Index versus the MSCI EAFE® Index.
MSCI EAFE® Index earnings saw a small uptick relative to the S&P 500® earlier in the pandemic, but has begun to give that back. In early March, we are seeing downward estimate revisions for EAFE (namely for European stocks). The supply shock of higher energy prices is likely to slow real economic growth in Europe.


Sources: Bloomberg, MSCI
Monetary Policy/Currency
Historically the U.S. dollar typically moves directionally with U.S. stock relative performance. A sustained period of U.S. dollar weakness would provide a tailwind for international stocks.

Early in March, the U.S. dollar rallied as investors sought safety. This rally may continue as monetary policy is moving out of sync between the U.S. and developed international countries. The Fed needs to address demand-driven inflation due to substantial stimulus efforts. Other developed central banks are likely to hold off on policy tightening or normalization as their inflation is more supply driven, where monetary policy has little influence.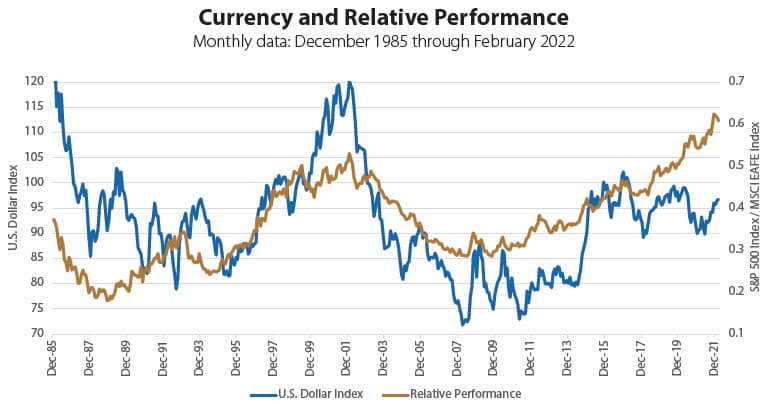 Sources: Bloomberg, Intercontinental Exchange
Glossary of Investment Terms and Index Definitions
---
Thomas J. Flavin, Ekaterinin Panopoulou, "On the robustness of international portfolio diversification benefits to regime-switching volatility," Journal of International Financial Markets, Institutions and Money, 2009.
This commentary is for informational purposes only and should not be used or construed as an offer to sell, a solicitation of an offer to buy, or a recommendation to buy, sell or hold any security. There is no guarantee that the information is complete or timely. Past performance is no guarantee of future results. Investing in an index is not possible. Investing involves risk, including the possible loss of principal and fluctuation of value. Please visit touchstoneinvestments.com for performance information current to the most recent month-end.
Please consider the investment objectives, risks, charges and expenses of the fund carefully before investing. The prospectus and the summary prospectus contain this and other information about the Fund. To obtain a prospectus or a summary prospectus, contact your financial professional or download and/or request one on the resources section or call Touchstone at 800-638-8194. Please read the prospectus and/or summary prospectus carefully before investing.
Touchstone Funds are distributed by Touchstone Securities, Inc.*
*A registered broker-dealer and member FINRA/SIPC.

Not FDIC Insured | No Bank Guarantee | May Lose Value