International Developed (EAFE) vs. U.S.
Investing in developed international stocks has historically provided investors with:
Diversification: portfolios that included international stocks have historically produced higher risk-adjusted returns (Flavin and Panopoulou).
Opportunity: 77% of publicly traded companies are not U.S.-based (Source: MSCI) and 59% of the global market cap resides outside of the U.S. (Source: Bloomberg). Why limit equity exposure to just a fraction of the total market opportunity set?
But why now?
Conclusion: We remain at an equal weighted stance. MSCI EAFE Index valuations look very attractive relative to the S&P 500® and we are looking for an opportunity to move to an overweight. Fundamentally, Europe and Japan are at risk of falling into a recession due to economic cost of the Coronavirus. Potentially offsetting this could be a weakening in the U.S. dollar as U.S. interest rates plummet relative to those in Japan and Europe.

Relative Valuations
Relative valuation in a historical perspective favors EAFE, with both relative Price/Book and Price/Sales at historically low levels.
At the end of February 2020, the S&P 500® Index closed at a price that was more than 89% above the 2007 peak, while the MSCI EAFE Index would need to rise 32% to get back to its 2007 peak. As of February 2020, on a forward P/E basis, the MSCI EAFE Index was selling for 13x and had a dividend yield of 3.8%. For the active manager, we believe there are many opportunities to uncover.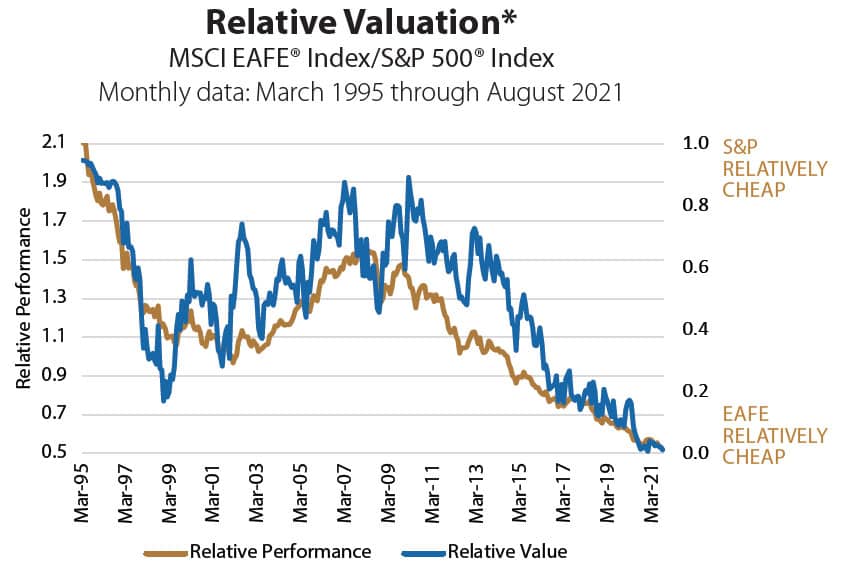 Sources: Bloomberg, MSCI
Relative Earnings Prospects
Relative price performance and relative earnings growth have historically followed a similar path. Relative earnings growth since mid-2008 has favored the S&P 500® Index versus the MSCI EAFE Index until mid-2016.
MSCI EAFE Index earnings began to outpace the S&P 500® Index in 2017. But since then, S&P 500® earnings have done better due to the tax cut in 2018 and due to relative economic performance in 2019.
What looked like a temporary deceleration in economic growth in Europe and Japan in 2018 continued into 2019 as global trade volumes decelerated. Unfortunately, the Coronavirus outbreak will make it difficult for these economies to regain momentum in the intermediate term.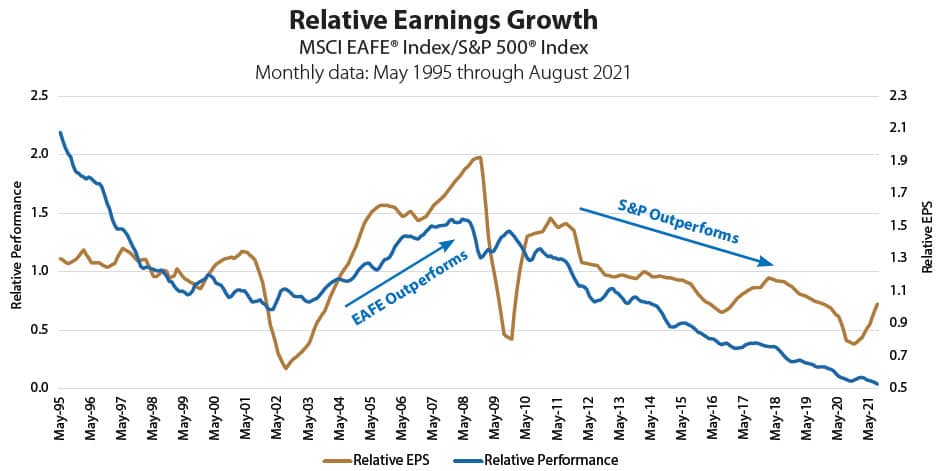 Sources: Bloomberg, MSCI
Monetary Policy/Currency
Monetary policy has become less effective in this economic expansion. In response to the Coronavirus outbreak, we anticipate fiscal stimulus packages that could impact relative growth prospect, though it is difficult to handicap what these packages will amount to at this time.

We've added currency considerations due to research that indicates historically the U.S. dollar typically moves directionally with U.S. stock relative outperformance and vice versa. Many factors influence the dollar, including monetary policy. The recent decline in U.S. interest rates may weigh on the dollar relative to other developed currencies. We also need to consider numerous geopolitical risks including Brexit negotiations and potentially disruptive bilateral trade talks with the U.S. in the near future.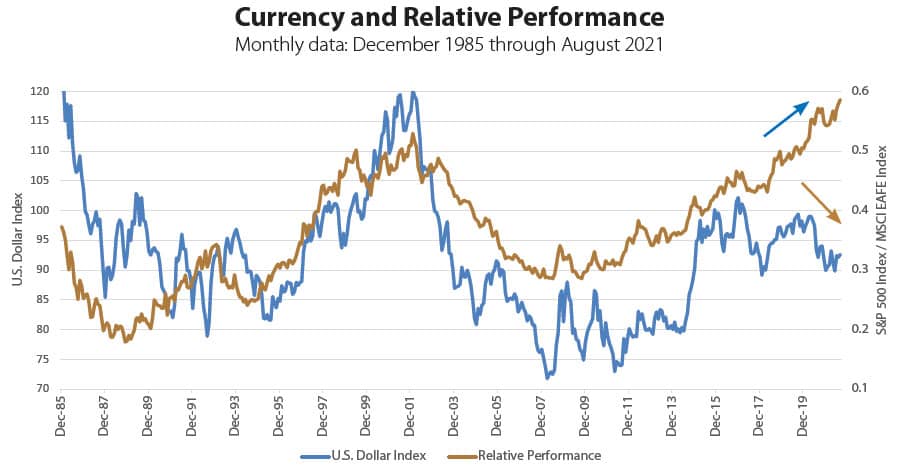 Sources: Bloomberg, Federal Reserve, Bank of Japan, European Central Bank
Glossary of Investment Terms and Index Definitions
---
This commentary is for informational purposes only and should not be used or construed as an offer to sell, a solicitation of an offer to buy, or a recommendation to buy, sell or hold any security. There is no guarantee that the information is complete or timely. Past performance is no guarantee of future results. Investing in an index is not possible. Investing involves risk, including the possible loss of principal and fluctuation of value. Please visit touchstoneinvestments.com for performance information current to the most recent month-end.
Please consider the investment objectives, risks, charges and expenses of the fund carefully before investing. The prospectus and the summary prospectus contain this and other information about the Fund. To obtain a prospectus or a summary prospectus, contact your financial advisor or download and/or request one on the resources section or call Touchstone at 800-638-8194. Please read the prospectus and/or summary prospectus carefully before investing.
Touchstone Funds are distributed by Touchstone Securities, Inc.*
*A registered broker-dealer and member FINRA/SIPC.

Not FDIC Insured | No Bank Guarantee | May Lose Value