Market Risk Signals
Conclusion: A shift to early economic cycle conditions along with a very accommodative Fed and fiscal stimulus provide an attractive backdrop for stocks. That said, the brevity of this downturn and the speed with which stocks have recovered meant that we were not able to fully refuel the gas tank and bring overall valuations down to levels that are cheap. There are still areas within the market that look attractive, but overall current market levels suggest a more muted return outlook for the market until earnings catch up with prices. Looking out over the next three to five years, we believe U.S. stock market returns in general will compare favorably to those delivered by bonds.
Market Cycles
While a one-month market decline in 2020 doesn't fit the definition of a bear market (sustained decline of at least three months), we believe that history will treat this decline as a bear market regardless.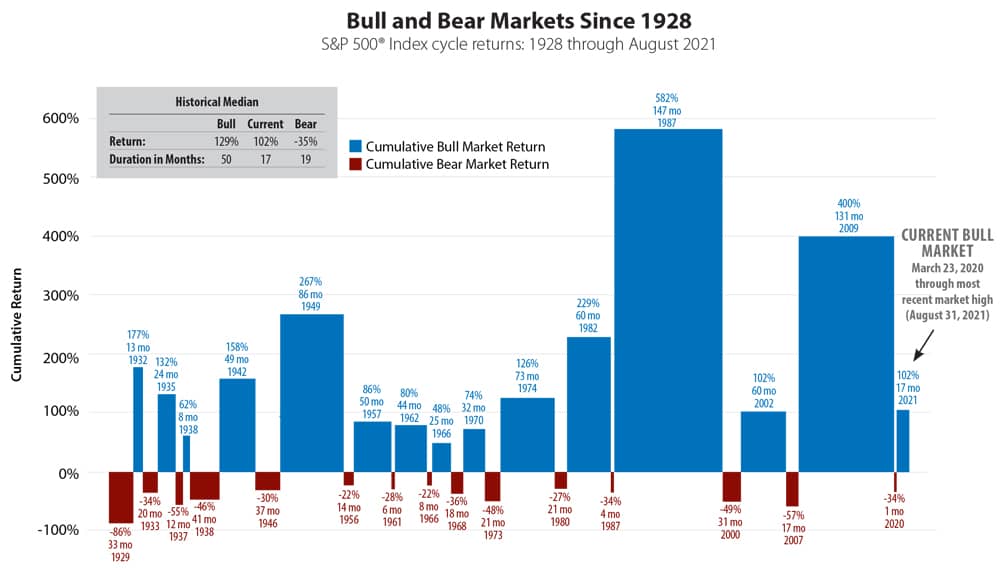 Source: Bloomberg, (based on daily closing prices)
Economic Cycle
In the blink of an eye we have gone from late cycle to early cycle, something that typically takes at least 12 months. Customarily, the economy takes the elevator down and the stairs back up. This time may be different given the significant monetary and fiscal response to the pandemic. All this stimulus is like pushing a manual transmission car downhill to start the engine. Strong consumer balance sheets, high levels of cash savings, and pent up demand all point to a rapid and healthy recovery.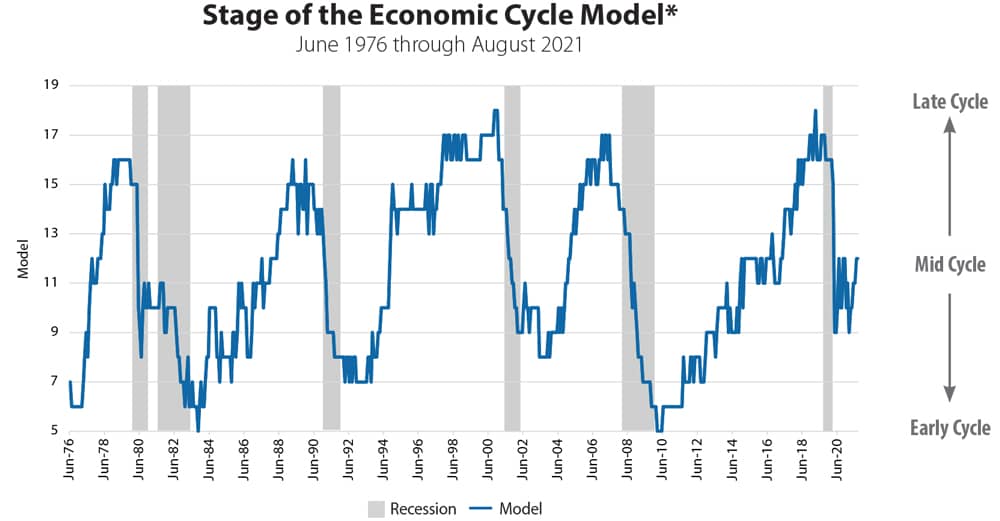 *Model based on Capacity Utilization, Unemployment Rate, Treasury yield spreads, and Consumer Confidence Indexes
Source: Bloomberg
Fundamentals
We see earnings growth as the key to the market cycle, with profit margin expansion and contraction being the key source of earnings growth. The just completed bull market saw very strong earnings growth with profit margin expansion being the dominant driver. This cycle will be very different as we start it with much higher profit margins (and higher valuations as well). It is important to note that high concentration in the top weights in the S&P 500® Index is having a distorting effect on weighted index measures. On an equal weighted basis, profit margins dropped to 2002 levels, indicating there is opportunity inside the Index.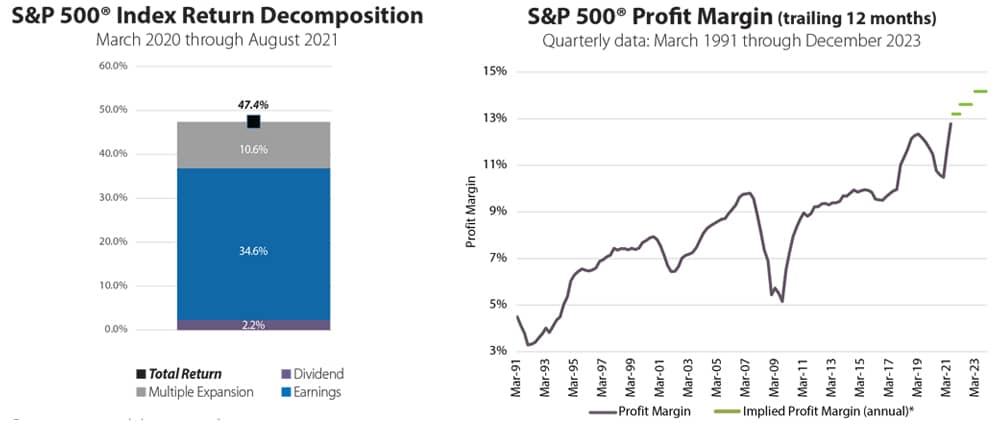 Data may not total due to rounding.
*Based on analysts' annual estimates for revenue and EPS.
Source: Bloomberg, S&P Dow Jones Indexes
Valuation
All valuation measures have their flaws, this is why we use numerous and different measures. Today it is even more difficult as it is unclear where the denominator of most measures will fall, and how quickly it will rebound. What we do know is that the numerator (price) has already rebounded strongly. Even by the most generous valuation measures the market looks to be fairly valued, which is not the best place in which to start a new bull market.
Valuation Measures
Based on the S&P 500® Index
as of February 2021
*Ranked 1 through 5, with 5 representing historically high levels
**Cyclically Adjusted Price-to-Earnings ratio. It is the current S&P 500® Index price divided by the 10-year moving average of earnings adjusted for inflation
Sources: Bloomberg, Robert Schiller - Yale University



| | Rank 1-5* |
| --- | --- |
| Shiller CAPE** | 5 |
| Trailing EV/EBITDA | 5 |
| Trailing Price/Book | 5 |
| Trailing Price/Sales | 5 |
| 10-Year Treasury Yield | 1 |
| Profit Margin | 3 |
| Summary Signal (Average) | 4.0 |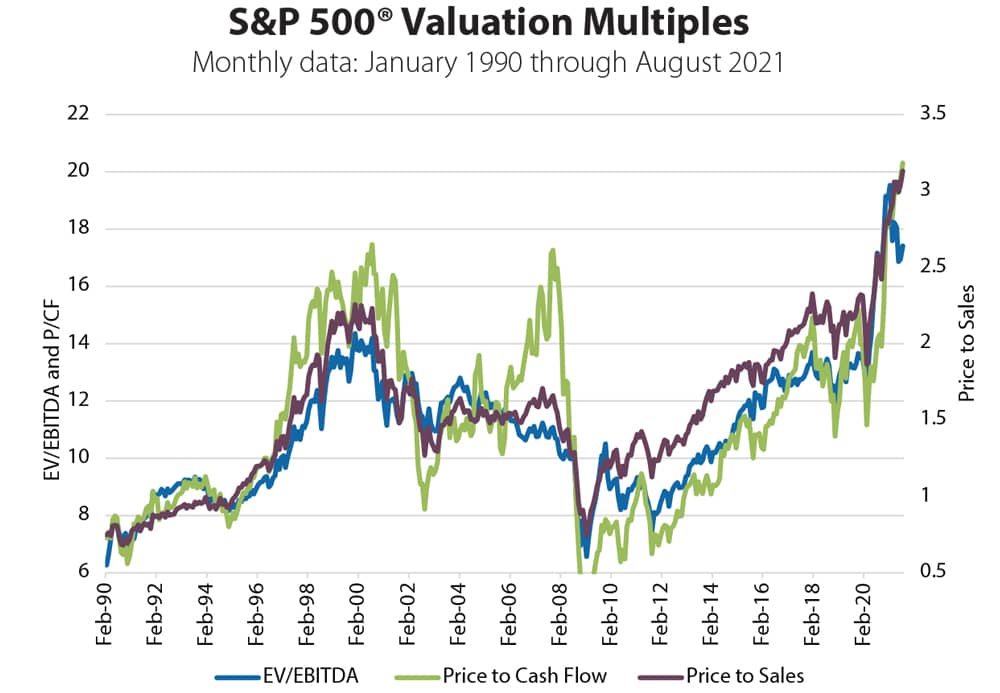 Sources: Bloomberg, Robert Shiller – Yale University
Touchstone Equity Risk Model
The Touchstone Equity Risk Model brings together the economic cycle, market fundamentals, and valuation considerations (depicted in the above sections). It is a way to measure potential upside based on fundamentals, though we recognize that sentiment can carry the market beyond what the fundamentals suggest. While our economy has moved to an early cycle phase, the market has already discounted much of the economic rebound. The speed with which this happened raises the question of whether we truly ended the last cycle or just interrupted it. Either way, the expected return going forward is likely to be lower than the historical average looking out over the next three to five years.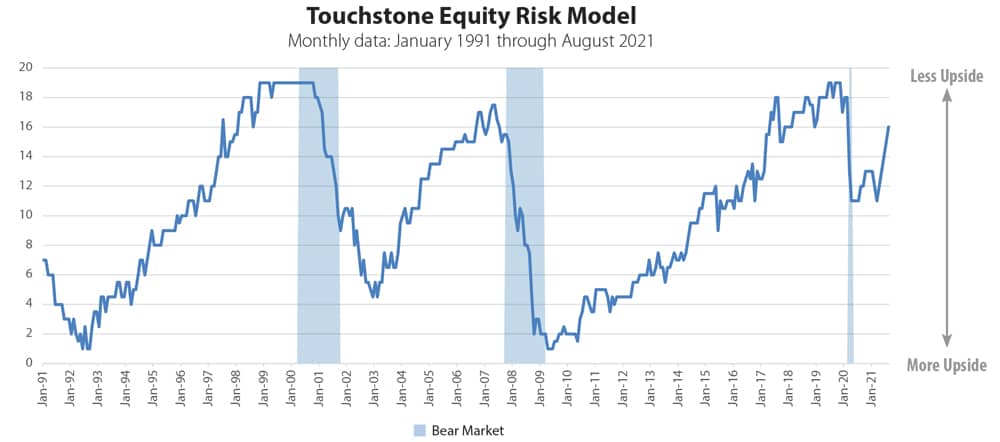 *Risk Model based on S&P 500® valuation metrics (EV/EBITDA, P/S) and profit margin, Unemployment Rate and Term Spread.
Sources: Bloomberg, Touchstone Investments
Glossary of Investment Terms and Index Definitions
---
This commentary is for informational purposes only and should not be used or construed as an offer to sell, a solicitation of an offer to buy, or a recommendation to buy, sell or hold any security. There is no guarantee that the information is complete or timely. Past performance is no guarantee of future results. Investing in an index is not possible. Investing involves risk, including the possible loss of principal and fluctuation of value. Please visit touchstoneinvestments.com for performance information current to the most recent month-end.
Please consider the investment objectives, risks, charges and expenses of the fund carefully before investing. The prospectus and the summary prospectus contain this and other information about the Fund. To obtain a prospectus or a summary prospectus, contact your financial professional or download and/or request one on the resources section or call Touchstone at 800-638-8194. Please read the prospectus and/or summary prospectus carefully before investing.
Touchstone Funds are distributed by Touchstone Securities, Inc.*
*A registered broker-dealer and member FINRA/SIPC.

Not FDIC Insured | No Bank Guarantee | May Lose Value