Market Risk Signals
Conclusion: Our Equity Risk Model indicates that the stock market was not well prepared to absorb a negative shock. This likely amplified the selloff of U.S. stocks. Recessionary conditions also puts uncertainty around near-term earnings. Yet, an expected easing in the spread of Coronavirus in the next few months coupled with monetary and fiscal stimulus should eventually provide support for U.S. stocks and a base from which to grow.

Market Cycles
Previously we had daily returns back to 1962 from Bloomberg and monthly returns back to 1872 from Robert Shiller. Bloomberg now provides daily closing prices back to 1928. Moving to daily returns introduced two bear markets we had not captured with monthly closing data, demonstrating just how difficult it is to time the market. For consistency we no longer include any monthly returns.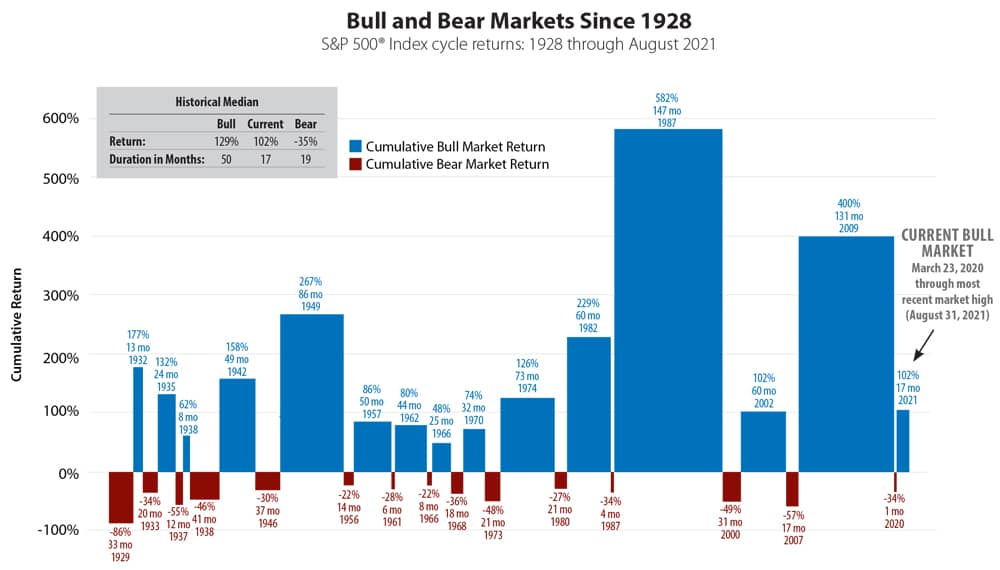 Source: Bloomberg, (based on daily closing prices)
Economic Cycle
The likelihood of a recession is rising due to a swift demand shock from efforts to contain and avoid the Coronavirus. At this point, visibility is low and the nature of this downturn is unique. As such, it is unclear as to whether we treat this as the completion of the cycle or an interuption of the cycle. For our model to get back to past post-recession lows would entail significant job losses, which is looking highly probable. Unlike previous recessions, it is likely to be the service sector as most services involve human contact. The service sector has been a major employment driver in this cycle and is composed of a lot of small businesses (e.g. restaurants).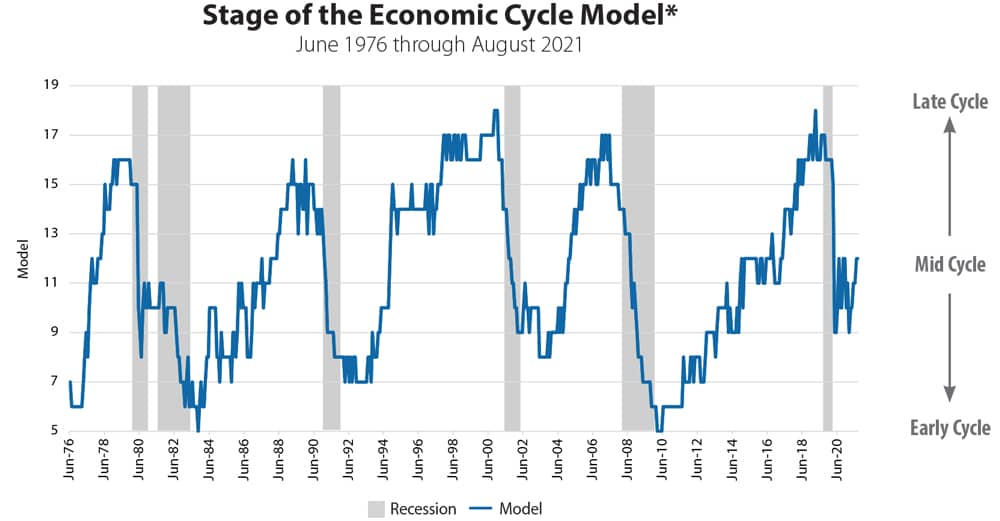 *Model based on Capacity Utilitization, Unemployment Rate, Treasury yield spreads, and Consumer Confidence Indexes
Source: Bloomberg
Fundamentals
We see earnings growth as the key to the market cycle, with profit margin expansion and contraction being the key source of earnings growth. This bull market has seen strong earnings growth with profit margin expansion being the dominant driver. With the Coronavirus temporarily shutting our economy down, we believe we reached the peak in profit margins for this cycle. Given what is expected to be a sharp, but temporary demand shock creates uncertainty as to how far margins fall and the speed with which they rebound.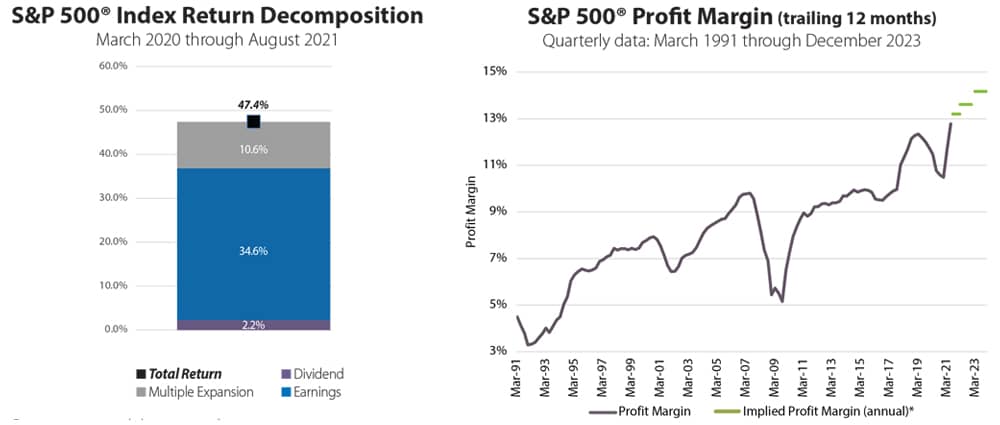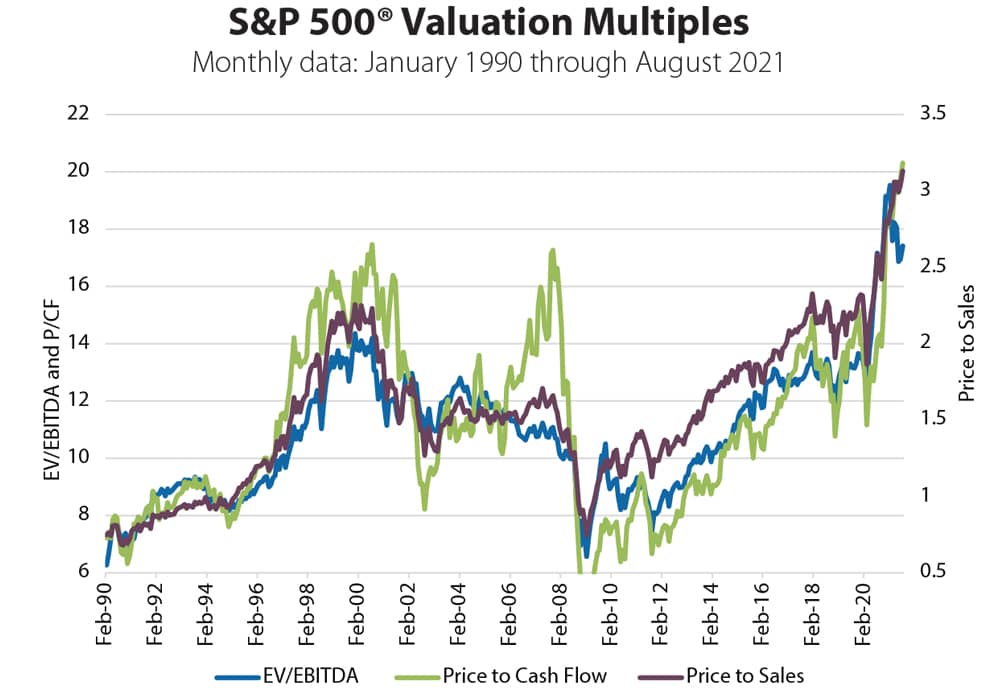 *Based on analysts' annual estimates for revenue and EPS. Source: Bloomberg, S&P Dow Jones Indexes
Valuation
The data here is through the end of February. Since then, the market has sold off considerably and we are beginning to see better valuations, though we have yet to reach the lows seen in past bear markets.
While not a particularly adept timing tool, valuation, or the price one pays, is an important component in determining the potential return. As valuations fall, the return potential for the S&P 500® increases.
Valuation Measures
Based on the S&P 500® Index
as of February 2020
*Ranked 1 through 5, with 5 representing historically high levels
**Cyclically Adjusted Price-to-Earnings ratio. It is the current S&P 500® Index price divided by the 10-year moving average of earnings adjusted for inflation
Sources: Bloomberg, Robert Schiller - Yale University

| | Rank 1-5* |
| --- | --- |
| Shiller CAPE** | 5 |
| Trailing EV/EBITDA | 5 |
| Trailing Price/Book | 4 |
| Trailing Price/Sales | 5 |
| 10-Year Treasury Yield | 1 |
| Profit Margin | 5 |
| Summary Signal (Average) | 4.2 |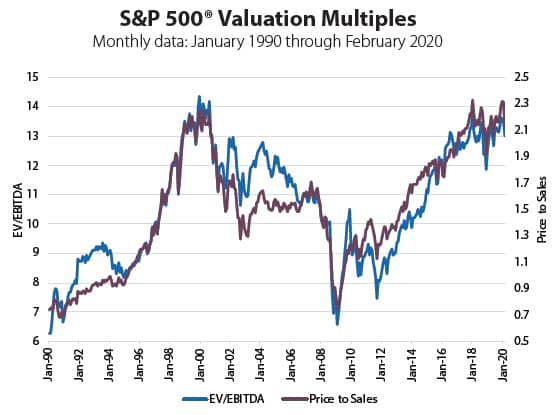 Sources: Bloomberg, Robert Shiller – Yale University
Touchstone Equity Risk Model
The Touchstone Equity Risk Model brings together the economic cycle, market fundamentals and valuation considerations. It has been suggesting investors be sensitive to taking on more risk.
Given the recent decline in market economic conditions, we expect this model to begin moving toward indicating an overall lower risk profile for the market.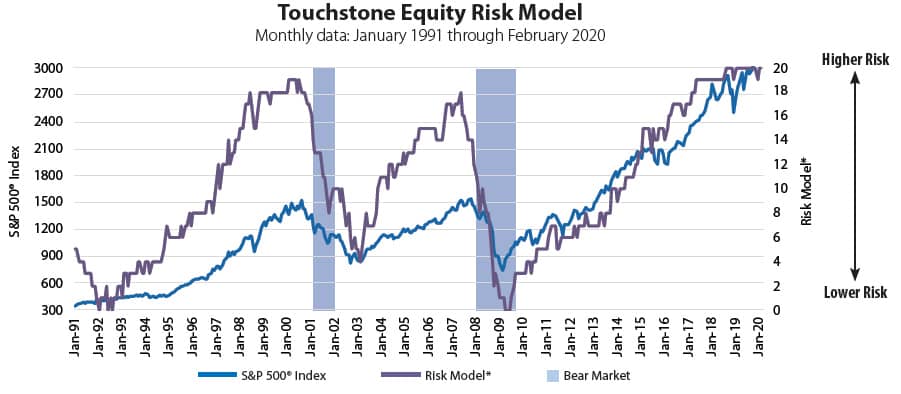 *Risk Model based on S&P 500® valuation metrics (EV/EBITDA, P/S) and profit margin, Unemployment Rate and Term Spread.
Sources: Bloomberg, Touchstone Investments
Timing Models
Judged from a historic perspective, the market was in a topping process when three or more of the conditions below were present. Likewise, a recession has occurred within 12 months when four or more conditions were present.
The unique characteristics surrounding the bear market and likely recession upended these models as they are based on more traditional historical downturns.
Recession Indicator*
Number of indicators that currently suggest a recession in the next 12 months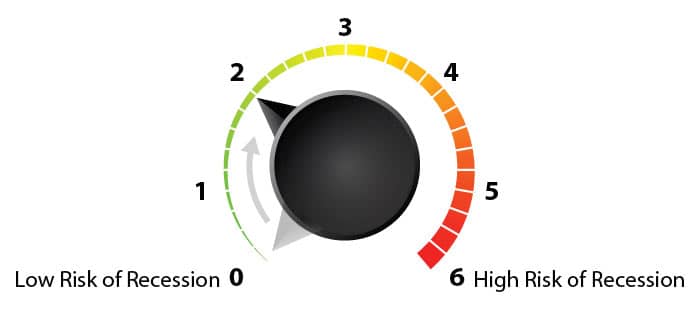 Is the Stock Market Topping?
Are These Conditions Currently Present?
*Touchstone's Recession Indicator looks at six measures that typically precede a recession. They include trends in the S&P 500® Index, the Unemployment Rate and Credit Spreads, as well as the Leading Economic Index, and two spread measures of the Yield Curve.

| | Yes | No |
| --- | --- | --- |
| Narrowing Market Breadth | | √ |
| Small & Mid Caps Underperforming | √ | |
| Speculative Investor Behavior | | √ |
| Strong Equity Fund Flows | | √ |
| Inverted Yield Curve | | √ |
Market Breadth: Measures of market breadth attempt to describe how broad or narrow market leadership is with measures of the number of companies in an index that are participating in market rallies.
Small & Mid Caps Underperforming: Small- and mid-sized companies tend to be more economically sensitive than large-cap companies. Historically, bull markets have tended to crest near the end of an economic cycle. Small- and mid-sized stocks can provide an early signal of the economy losing momentum when these stocks begin to underperform large-sized stocks.
Speculative Investor Behavior: Often in the later stages of a bull market, investors become more speculative in the choice of stocks they invest. The Dot-Com boom in the late 1990s is an example of investors shifting their appetite toward more speculative companies.
Strong Equity Fund Flows: Investors often chase performance, but with a lag. Historically, it has been observed that investors can shift their allocation between equities and fixed income over the course of a market cycle with a preference for stocks over bonds later in the bull market cycle.
Inverted Yield Curve: The yield curve, as measured by the 2-year and 10-year Treasury yields, becomes inverted when the yield on the 2-year Treasury is higher than the 10-year Treasury yield. Yield curve inversion typically occurs due to Federal Reserve actions to slow economic growth.
Glossary of Investment Terms and Index Definitions
---
This commentary is for informational purposes only and should not be used or construed as an offer to sell, a solicitation of an offer to buy, or a recommendation to buy, sell or hold any security. There is no guarantee that the information is complete or timely. Past performance is no guarantee of future results. Investing in an index is not possible. Investing involves risk, including the possible loss of principal and fluctuation of value. Please visit touchstoneinvestments.com for performance information current to the most recent month-end.
Please consider the investment objectives, risks, charges and expenses of the fund carefully before investing. The prospectus and the summary prospectus contain this and other information about the Fund. To obtain a prospectus or a summary prospectus, contact your financial professional or download and/or request one on the resources section or call Touchstone at 800-638-8194. Please read the prospectus and/or summary prospectus carefully before investing.
Touchstone Funds are distributed by Touchstone Securities, Inc.*
*A registered broker-dealer and member FINRA/SIPC.

Not FDIC Insured | No Bank Guarantee | May Lose Value