Style Drivers
Conclusion: Both Value and Growth stocks declined in 2022, though Growth stocks fell much further than Value stocks. The rise in interest rates appears to be the most likely reason for this underperformance as earnings trends were not that different. Growth stock prices tend to reflect a greater portion of future value than Value stocks. At least theoretically, as interest rates rise, prices need to fall to adjust to a lower value of discounted future earnings. Assuming that the discounting process is over, we see a more even playing field between Growth and Value stocks.

Style Cycle Duration & Return
Historically, style leadership changes have typically occurred near the end of an economic cycle. This did not occur in the COVID-19-driven downturn. We believe this is due in part to the nature of the environment that materially benefited many Growth companies and had the opposite effect on many Value companies. The pandemic may have delayed the transition.
Recently, the relative performance of the Value index moved up through a long-term downward trendline, which could indicate the beginning of a more sustainable period of outperformance, though we would want to see some relative earnings strength for confirmation.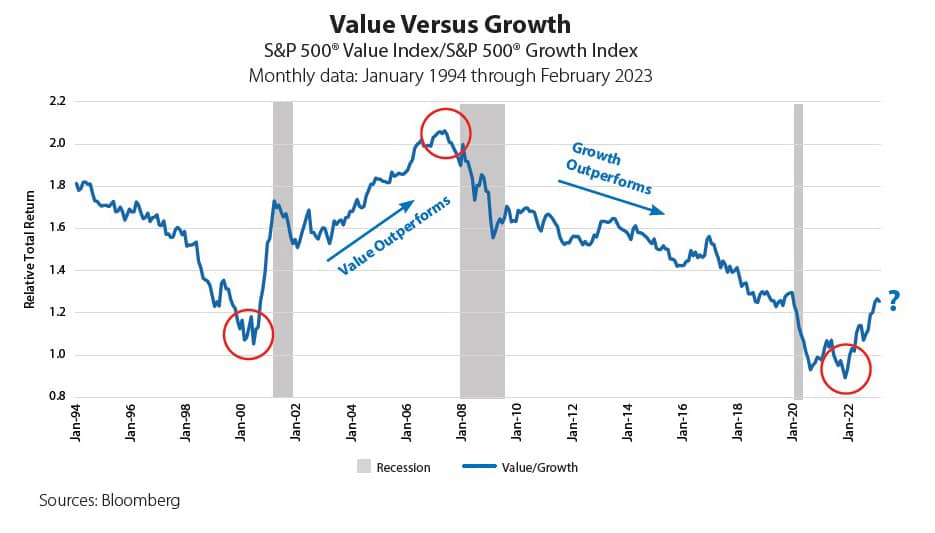 Relative Valuation
Comparative valuation is difficult, as Value sectors and stocks tend toward valuation measures that differ from Growth sectors and stocks. In recognition of this, we have incorporated a number of different valuation measures. While relative valuation certainly leans Value, on an absolute basis the Value index is not cheap relative to its own history. This helps explain why the Value index did not provide downside protection in the 2020 bear market.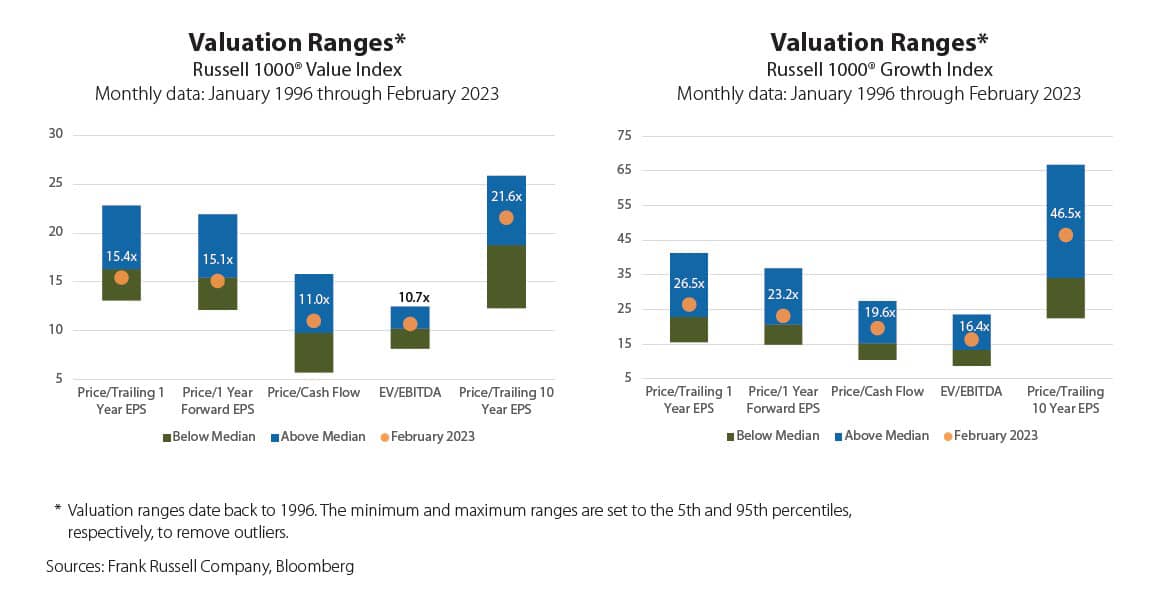 Relative Fundamentals
Generally, relative price performance follows relative earnings. It is difficult to compare earnings between the Growth and Value indexes as the Value index has both cyclical (e.g., Financials) and defensive (e.g., Utilities) stock exposure while the Growth index is composed of mostly less cyclical companies.
It is interesting to note that Value's outperformance last year was not accompanied by relative earnings strength. This is consistent with the notion that Growth stocks underperformed as they repriced lower due to higher interest rates and not a change in relative fundamentals.

Value Poised to Do Better?
Another way to look at Growth versus Value is to consider relative returns on a rolling 10-year basis. The relative performance of both Small and Large Cap Growth indexes has started to come down from levels that were two standard deviations away from the historical average. Note how for the Small Cap indexes the Value style has historically dominated though they are nearly even in performance over the last 10 years.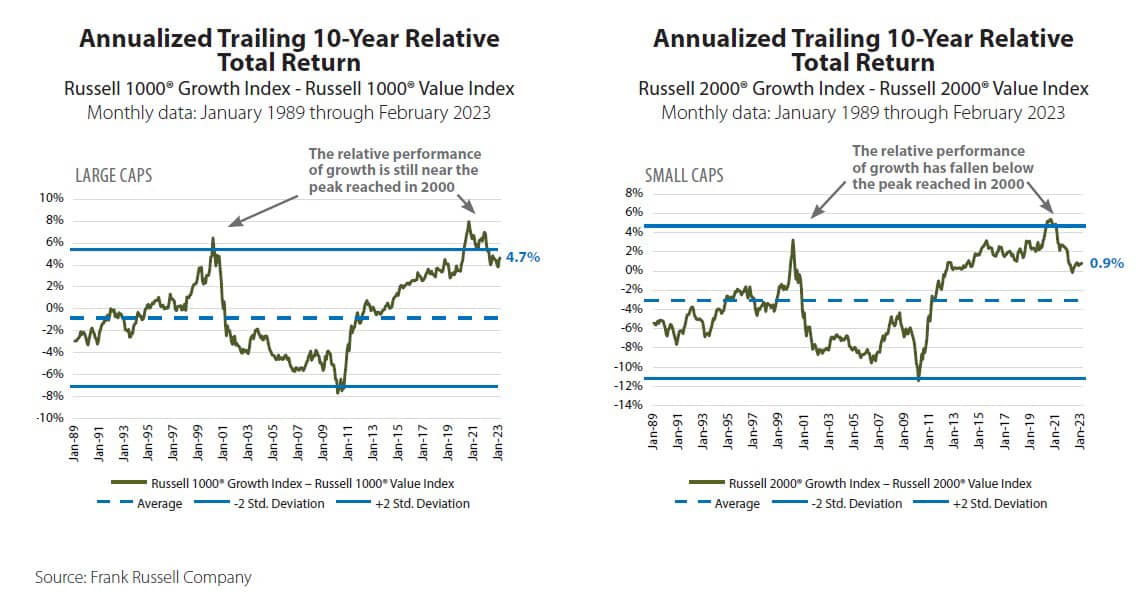 Glossary of Investment Terms and Index Definitions
---
Eugene Fama & Kenneth French, The Cross Section of Expected Stock Returns, Journal of Finance, June 1992.
This commentary is for informational purposes only and should not be used or construed as an offer to sell, a solicitation of an offer to buy, or a recommendation to buy, sell or hold any security. There is no guarantee that the information is complete or timely. Past performance is no guarantee of future results. Investing in an index is not possible. Investing involves risk, including the possible loss of principal and fluctuation of value. Please visit touchstoneinvestments.com for performance information current to the most recent month-end.
Please consider the investment objectives, risks, charges and expenses of the fund carefully before investing. The prospectus and the summary prospectus contain this and other information about the Fund. To obtain a prospectus or a summary prospectus, contact your financial professional or download and/or request one on the resources section or call Touchstone at 800-638-8194. Please read the prospectus and/or summary prospectus carefully before investing.
Touchstone Funds are distributed by Touchstone Securities, Inc.*
*A registered broker-dealer and member FINRA/SIPC.

Not FDIC Insured | No Bank Guarantee | May Lose Value