So let's start with China, which has been causing some market turbulence. And there's 3 main issues as I see it. First is slowing economic growth – and this is due to efforts to fight off the Delta variant as well as just natural slowing after the recovery. China's central bank is starting to loosen policy to re-stimulate the economy. Second is the teetering property developer Evergrande which is at risk of defaulting on its debt. Evergrande is so big and its businesses and balance sheet is so important for jobs and income for Chinese citizens that we do not believe that China allows it to fail. But, President Xi Jinping has been trying to slow speculation in the housing market for a number of years and may use this as a way to turn the screws a bit and send a message to other property developers. Third has been the regulatory crackdown, this apparent move away from capitalism. This shift has also been something that President Xi has been behind for a number of years, and possibly some of his recent actions have been out of frustration and wanting to send a message to China's private sector. But overall, I see this as a shift not a light switch – still it is important for investors, and means that we need to be more selective, but I don't believe that makes China un-investable. China still needs to grow and capitalism will continue to be a part of it. President Xi seems to understand this, why else would he announce plans to set up a third stock exchange to help small and mid-sized businesses? And there are a number of industries where the government is supportive of growth and expansion. With China, as with all emerging markets, one needs to have their eyes open and be selective, but that does not diminish the opportunities available to investors.
And speaking of opportunities, I put together this chart for the new quarterly theme book to help demonstrate the magnitude.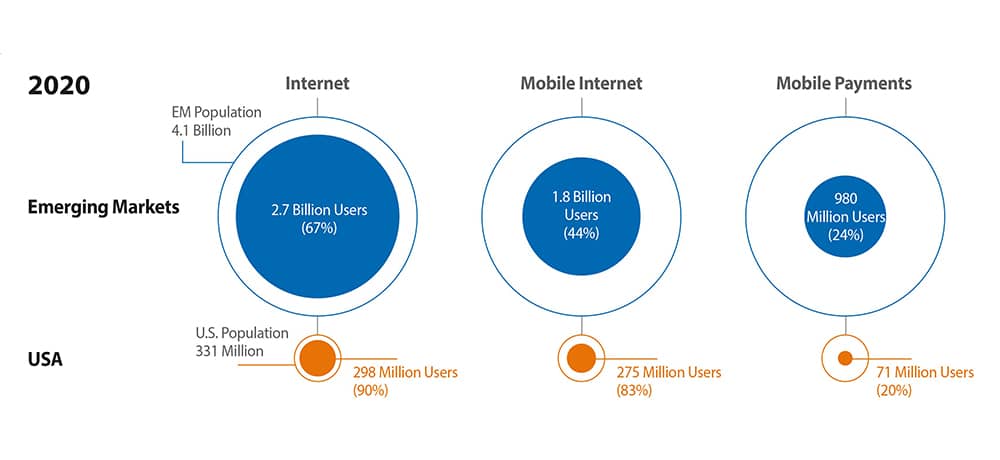 Sources: World Bank, DataReportal, VentureBeat, Juniper Research, SPMP Research, Pew Research
Think about what our country looked like before the automobile – and then how much cars changes the landscape, all the new businesses that came with it, from highways to McDonalds to motels. It's just crazy. Now maybe the smartphone will not be as visibly transformative, but according to surveys I spend more time on my phone than I do in my car, my phone is much cheaper than my car and a lot of the things that I use on the phone are free – this is just made for emerging markets, and we are still on the upswing here.
It's hard for me not to be excited about the investment opportunities that can be found in emerging markets.
To learn more about our views on international equities and emerging markets please see the Insights portion of our Touchstone Investments website.
---
This commentary is for informational purposes only and should not be used or construed as an offer to sell, a solicitation of an offer to buy or a recommendation to buy, sell or hold any security. Investing in an index is not possible. Investing involves risk, including the possible loss of principal and fluctuation of value. Past performance is no guarantee of future results.
A Word About Risk
The Fund invests in foreign, emerging and frontier markets securities, and depositary receipts, such as American Depositary Receipts, Global Depositary Receipts, and European Depositary Receipts, which carry the associated risks of economic and political instability, market liquidity, currency volatility and accounting standards that differ from those of U.S. markets and may offer less protection to investors. The risks associated with investing in foreign markets are magnified in emerging markets, and in frontier markets due to their smaller and less developed economies.
Please consider the investment objectives, risks, charges and expenses of a Fund carefully before investing. The prospectus and the summary prospectus contain this and other information about the Funds. To obtain a prospectus or a summary prospectus, contact your financial professional or download and/or request one at TouchstoneInvestments.com/literature-center or call Touchstone at 800.638.8194. Please read the prospectus and/or summary prospectus carefully before investing.
Touchstone Funds are distributed by Touchstone Securities, Inc.*
*A registered broker-dealer and member FINRA/SIPC.
Touchstone is a member of Western & Southern Financial Group
©2021, Touchstone Securities, Inc.