The international developed markets picture is mixed. Valuations are much more attractive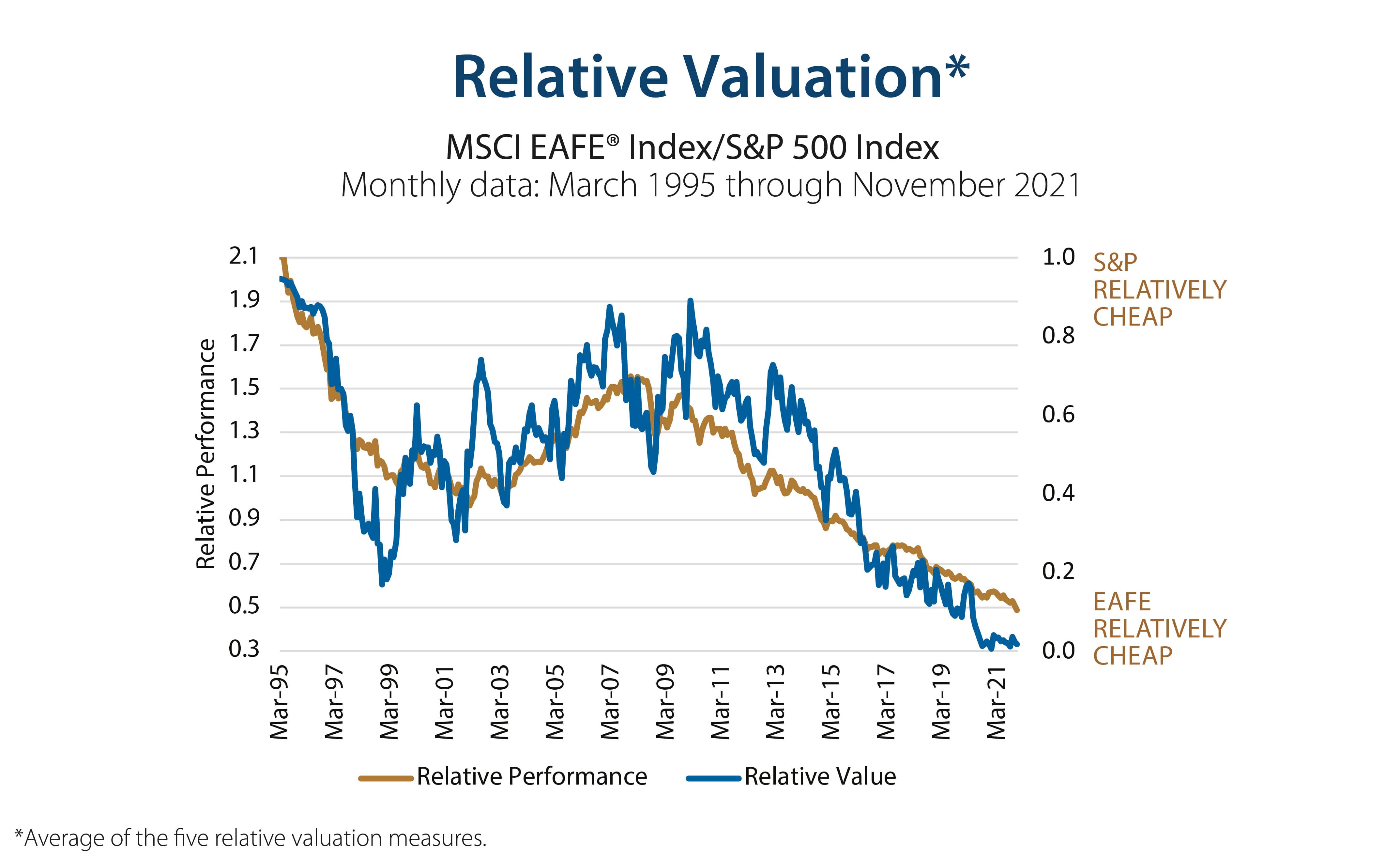 Sources: Bloomberg, MSCI
on a relative and absolute basis and the earnings growth prospects for some countries such as Japan are encouraging. On the other hand we have a number of concerns surrounding Europe including a COVID-19 rebound, low earnings growth expectations, the Russian troop buildup around the Ukraine, Europe and the UK continue to deal with unresolved Brexit issues, there will be important elections next year in Italy and France, and we are watching a deteriorating relationship between Poland and the EU. Given this uncertain backdrop we are holding to a neutral weight for this region.
Turning to emerging markets we have moved to a slight underweight as we see near-term pressure from weakening economic growth in China and from the Omicron variant as emerging markets are less vaccinated and many of those who are vaccinated have vaccines from Russia and China that don't appear to work as well in protecting from this variant. Also monetary tightening is happening in some countries, and there is the risk from Fed tightening that could pull some liquidity from emerging markets. We could turn more positive on emerging markets if China were to move to a much more aggressive policy easing campaign and after the Omicron wave passes through. We continue to see a lot of longer term growth opportunities harnessed within the emerging markets and want to participate.
For further Insights on our market views please see our website.
---
This commentary is for informational purposes only and should not be used or construed as an offer to sell, a solicitation of an offer to buy or a recommendation to buy, sell or hold any security. Investing in an index is not possible. Investing involves risk, including the possible loss of principal and fluctuation of value. Past performance is no guarantee of future results.
A Word About Risk
The Fund invests in foreign, emerging and frontier markets securities, and depositary receipts, such as American Depositary Receipts, Global Depositary Receipts, and European Depositary Receipts, which carry the associated risks of economic and political instability, market liquidity, currency volatility and accounting standards that differ from those of U.S. markets and may offer less protection to investors. The risks associated with investing in foreign markets are magnified in emerging markets, and in frontier markets due to their smaller and less developed economies.
Please consider the investment objectives, risks, charges and expenses of a Fund carefully before investing. The prospectus and the summary prospectus contain this and other information about the Funds. To obtain a prospectus or a summary prospectus, contact your financial professional or download and/or request one at TouchstoneInvestments.com/literature-center or call Touchstone at 800.638.8194. Please read the prospectus and/or summary prospectus carefully before investing.
Touchstone Funds are distributed by Touchstone Securities, Inc.*
*A registered broker-dealer and member FINRA/SIPC.
Touchstone is a member of Western & Southern Financial Group
©2021, Touchstone Securities, Inc.