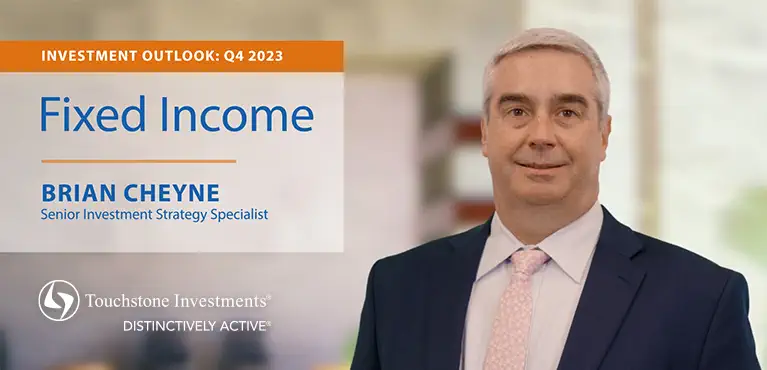 We continue to favor fixed income, namely because yields are compensating investors for the risks they are taking for the first time since before the Great Financial Crisis. We see the economy slowing and inflationary pressures easing which should be a favorable backdrop for investors that are extending duration into higher quality bond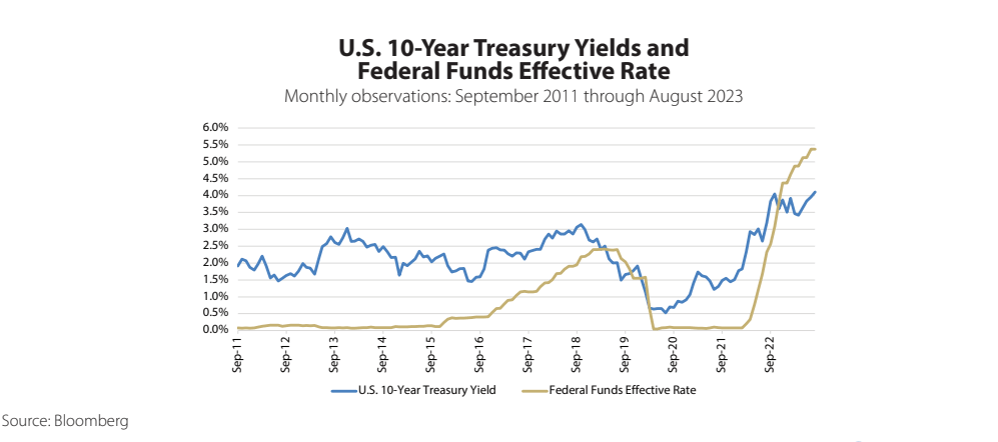 Investors have significant cash holdings as they look for a safe haven from equity market volatility and take advantage of higher yields relative to longer-dated bonds. But how long will this last? We are frequently asked about reinvestment risk and share many investors' concerns about when to move out of the temporary shelter. The yield curve remains significantly inverted;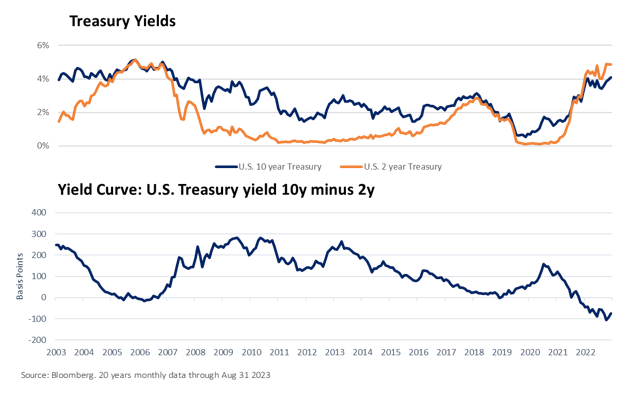 in fact, in mid-September the current inversion became the longest such event in more than 60 years. The reversion will unwind and could do so more quickly than investors expect. As previously mentioned, our base case contains a mild recession, such events generally precipitate the reversal of the yield curve inversion and create tailwinds for longer duration bonds relative to shorter duration.
High yield credit has performed well year-to-date. We believe this is due to a combination of high absolute interest rates, market technical such as only a small portion of the outstanding issuance requiring refinancing in the next couple of years, and inflationary conditions that have allowed for stronger than expected corporate earnings. Looking forward we believe corporate income could come under pressure due to tighter financial conditions and as the rate of inflation slows, which could increase volatility in the high yield markets.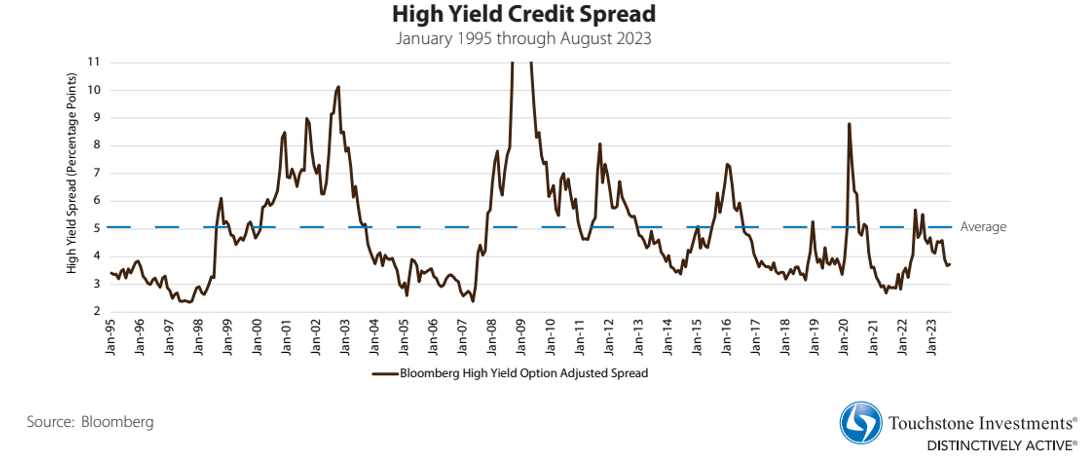 High yield bonds are typically valued through their credit spreads but current spreads do not indicate much economic concern. If spreads were to widen we would become much more interested in this asset class.
To find more of our thoughts on fixed income please visit our website at touchstoneinvestments.com
---
This commentary is for informational purposes only and should not be used or construed as an offer to sell, a solicitation of an offer to buy or a recommendation to buy, sell or hold any security. Investing in an index is not possible. Investing involves risk, including the possible loss of principal and fluctuation of value. Past performance is no guarantee of future results.
Please consider the investment objectives, risks, charges and expenses of a Fund carefully before investing. The prospectus and the summary prospectus contain this and other information about the Funds. To obtain a prospectus or a summary prospectus, contact your financial professional or download and/or request one at TouchstoneInvestments.com/literature-center or call Touchstone at 800.638.8194. Please read the prospectus and/or summary prospectus carefully before investing.

Touchstone Funds are distributed by Touchstone Securities, Inc.*
*A registered broker-dealer and member FINRA/SIPC.
Touchstone is a member of Western & Southern Financial Group
©2023, Touchstone Securities, Inc.
TSF-2630-FI-2309