Interest Rate Risk
Conclusion: Our analysis suggests structural supply and demand forces (of more savings than investment) are behind the current low rate environment. In the near-term, these secular forces have been amplified by expected slowing economic growth from the coronavirus outbreak. Interest rates have come down dramatically. The yield on the 10-year Treasury has fallen well below the low end of our normal expected range of 1.5%-3.0% and is likely to remain so until the outbreak subsides, after which we see rates moving back into our normal expected range.

Monetary Policy
In its effort to accomplish its dual goals of maximum employment and stable inflation, the U.S. Federal Reserve Board tends to adjust its policy in a counter cyclical fashion. Efforts to stimulate the economy through monetary policy generally lead to higher long-term interest rates and vice versa.
It can take up to a year or more for interest rate changes to feed through to the economy. In 2019, the Fed cut rates three times, totaling 75 basis points. Ten, in early March 2020, it did a surprise cut of 50 basis points in response to the Coronavirus outbreak. This last cut brought our Model down into accommodative territory. Further rate cuts will move this deeper into accommodative territory.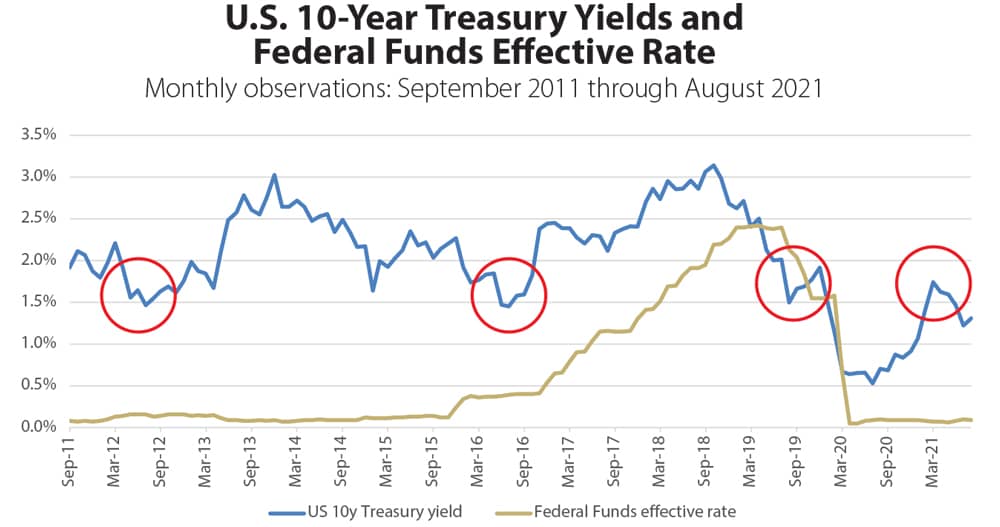 *Model based on inflation-adjusted Federal Funds and term structure of interest rates.
Sources: Bloomberg, Touchstone Investments
Supply
Supply refers to lending and is represented by savings and investments. Excess supply puts downward pressure on interest rates.
The vast majority of U.S. savings are held by consumers, including contributions to pension plans.
Retirement savings have swelled as the Baby Boom generation nears retirement age. Typically, there has been a tendency to accelerate the pace of savings and begin to make asset allocation changes toward less risky, more income-generative assets (e.g., bonds), as one gets closer to retiring.
There are also cyclical factors that influence supply. A slowing in global economic growth and attractive yields relative to other developed countries has increased the global supply of money looking for safer assets such as Treasury bonds. Coronavirus has amplified this global supply temporarily, though could quickly reverse as the uncertainty subsides.


*Includes: IRAs, DC plans, DB plans and Annuities
Sources: Bloomberg, U.S. Census Bureau, Investment Company Institute
Demand
Demand refers to borrowing (or investment). Excess demand puts upward pressure on interest rates, while insufficient demand puts downward pressure on interest rates. Total debt growth began to outpace gross domestic product (GDP) growth starting in late 2015. Both Business and Federal borrowing have been the drivers of this growth, while Consumer borrowing continues to shrink as a percent of GDP.
Consumer demand (household debt growth) has remained weak throughout this economic cycle due mainly to tighter mortgage lending standards. Mortgages represent two-thirds of household debt outstanding.
Business (non-financial) demand has been the fastest growing sector. This has been primarily a supply-driven market where investors seeking higher income generation have encouraged more borrowing from the corporate sector.
Federal borrowing has been strong throughout most of this economic cycle. Typically federal government debt begins to shrink as a percent of GDP later in an economic cycle as tax revenues grow, alleviating budgetary pressures. This has not been a typical economic cycle. Looking forward, Federal debt is forecast to grow following passage of the tax bill and two-year budget deal. While not a near-term market issue, this debt burden will eventually reduce U.S. economic growth potential, and it makes the economy more interest rate sensitive.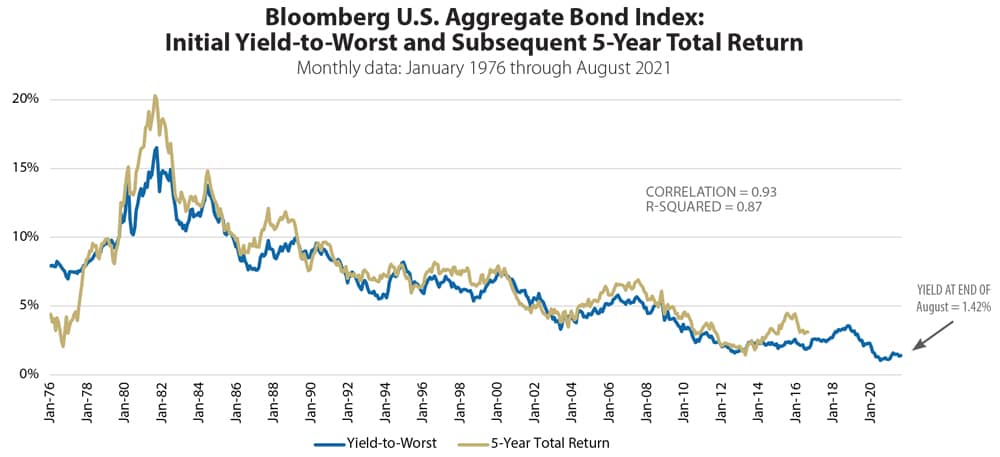 Sources: Bloomberg, U.S. Treasury, Bureau of Economic Analysis Institute
Simple Bloomberg Barclays U.S. Aggregate Index Model Suggests Low Returns
Given that the Bloomberg Barclays U.S. Aggregate Index typically has a duration of around five years, its current yield has historically tended to be a reasonable estimate for the total return of the index over the next five years. Touchstone uses this model in developing its asset class return outlook for core fixed income. Note that in early March after the last data point on this chart, the yield on the AGG index continued to fall to new all-time lows.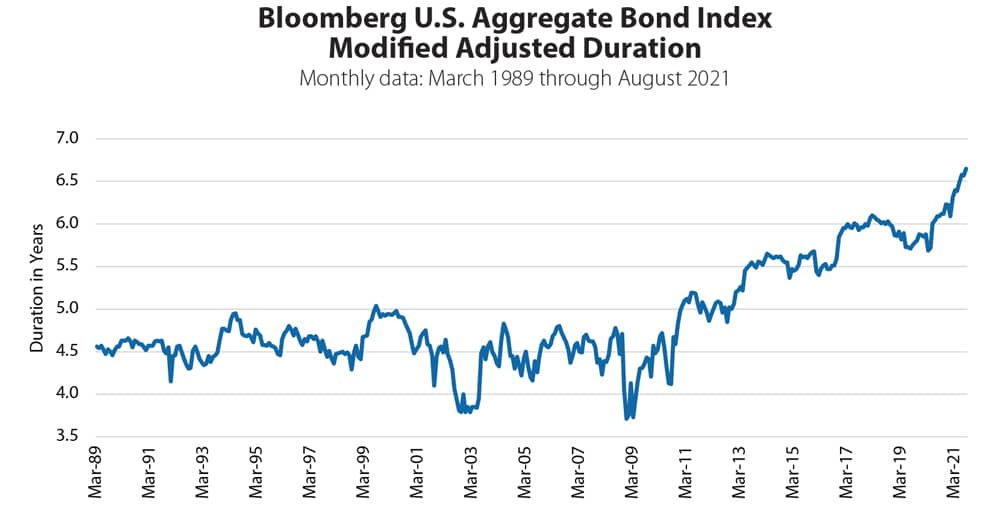 Source: Bloomberg Barclays
Bloomberg Barclays U.S. Aggregate Bond Index Duration Extended
Duration is a measure of a bond's price sensitivity to changes in interest rates. As duration rises, bonds become more sensitive to changes in interest rates. The duration risk for the Bloomberg Barclays U.S. Aggregate Bond Index is near its all-time high. The drop in interest rates due to the Coronavirus in early March is likely to extend duration to new all-time highs.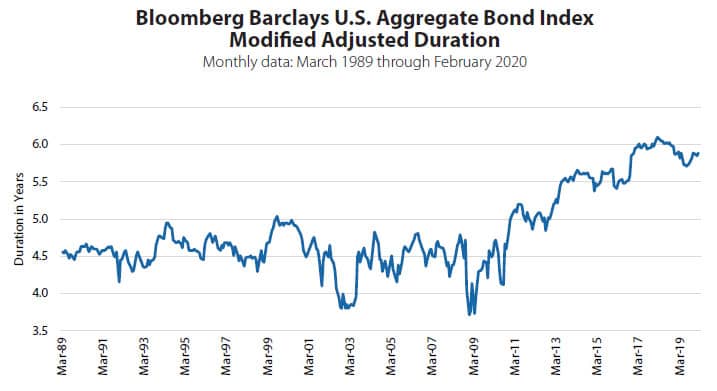 Source: Bloomberg
Glossary of Investment Terms and Index Definitions
---
This commentary is for informational purposes only and should not be used or construed as an offer to sell, a solicitation of an offer to buy, or a recommendation to buy, sell or hold any security. There is no guarantee that the information is complete or timely. Past performance is no guarantee of future results. Investing in an index is not possible. Investing involves risk, including the possible loss of principal and fluctuation of value. Please visit touchstoneinvestments.com for performance information current to the most recent month-end.
Please consider the investment objectives, risks, charges and expenses of the fund carefully before investing. The prospectus and the summary prospectus contain this and other information about the Fund. To obtain a prospectus or a summary prospectus, contact your financial advisor or download and/or request one on the resources section or call Touchstone at 800-638-8194. Please read the prospectus and/or summary prospectus carefully before investing.
Touchstone Funds are distributed by Touchstone Securities, Inc.*
*A registered broker-dealer and member FINRA/SIPC.

Not FDIC Insured | No Bank Guarantee | May Lose Value