Interest Rate Risk
Conclusion: When a geopolitical crisis such as war erupts, investors tend to turn to Treasuries for safety. The war in Ukraine quickly reversed a rise in 10-year Treasury yields above 2% and will likely hold rates down in the near-term. Higher commodity prices due to the war and sanctions are likely to hinder the expected easing in inflationary pressures, but also may crowd out some spending on other goods and services. We believe 10-year Treasury yields may get back above 2% later this year.


Monetary Policy
In its effort to accomplish its dual goals of maximum employment and stable inflation, the U.S. Federal Reserve Board (Fed) tends to adjust its policy in a counter cyclical fashion. Efforts to stimulate the economy through monetary policy generally led to higher long-term interest rates and vice versa over time.

In March, the Fed completed its tapering program and began to remove its accommodative policy by raising the Federal Funds rate by 25 basis points. The future path of Fed policy tightening may be complicated by the war in Ukraine, which is likely to extend higher-than-expected inflation, assuming an extended period of economic sanctions on resource-rich Russia.


Source: Bloomberg
Supply
Supply refers to lending and is represented by savings and investments. Excess supply puts downward pressure on interest rates.
The vast majority of U.S. savings are held by consumers, including contributions to pension plans.
Retirement savings have swelled as the Baby Boom generation nears retirement age. Typically, there has been a tendency to accelerate the pace of savings and begin to make asset allocation changes toward less risky, more income-generative assets (e.g., bonds), as one gets closer to retiring and into retirement.
The supply/demand approach to interest rates can also be thought of as savings versus investment. Savings represents money looking to lend, while investment money looking to borrow, and rates adjust to accommodate changes in these two factors. The right chart below broadly depicts this relationship. Fiscal stimulus measures to offset the pandemic have significantly added to savings.


Sources: Bloomberg, U.S. Census Bureau, Bureau of Economic Analysts
Demand
Demand refers to borrowing (or investment). Excess demand puts upward pressure on interest rates, while insufficient demand puts downward pressure on interest rates. In the past, we have used measures of the change in debt outstanding to indicate whether demand is abundant or scarce. There has been a dramatic increase in borrowing by the government and business sector, but we believe showing these figures would be distortionary. The vast majority of debt issuance has gone not toward investment, but toward replacing lost income and the building up of cash. As such, this borrowing will have little stimulative impact for the economy, though certainly it was needed to prevent a more meaningful economic shock.
We look at capital spending intentions as a more direct measure of investment by corporate America. As can be seen, there has been a strong rebound, and smaller businesses remain enthusiastic despite rising input costs and tight labor conditions.
Mortgage rates have surged above 4% on fears of the Fed more aggressively selling off MBS (mortgage-backed securities) when it starts draining its balance sheet. Higher mortgage rates have reduced demand. On the other hand, consumer credit and auto lending has continued to increase.


Sources: Bloomberg, U.S. Census Bureau, National Federation of Independent Businesses, Mortgage Bankers Assoc.
Simple Bloomberg U.S. Aggregate Bond Index Model Suggests Low Returns
Given that the Bloomberg U.S. Aggregate Bond Index typically had a duration of around five years, its current yield has historically tended to be a reasonable estimate for the total return of the index over the next five years. Touchstone uses this Model in developing its asset class return outlook for core fixed income. The yield on the Bloomberg U.S. Aggregate Bond Index has modestly begun to rise with the economic recovery, though we are not yet near levels that would be considered attractive.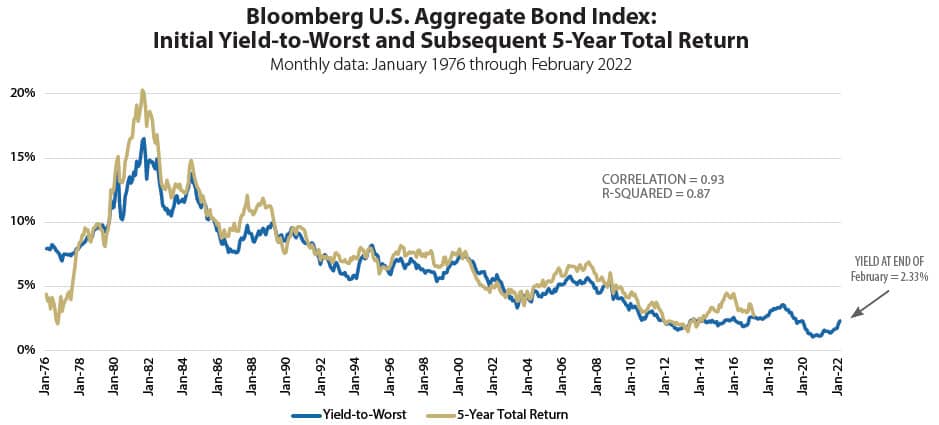 Source: Bloomberg
Bloomberg U.S. Aggregate Bond Index Duration Extended
Duration is a measure of a bond's price sensitivity to changes in interest rates. As duration rises, bonds become more sensitive to changes in interest rates. The duration risk for the Bloomberg U.S. Aggregate Bond Index remains near its all-time high. Lower interest rates and longer maturity Treasury and corporate issuance extended the duration over the course of the last decade.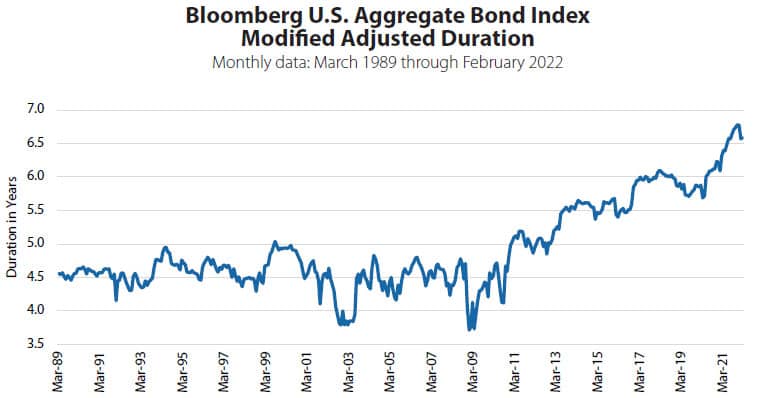 Source: Bloomberg
Glossary of Investment Terms and Index Definitions
---
This commentary is for informational purposes only and should not be used or construed as an offer to sell, a solicitation of an offer to buy, or a recommendation to buy, sell or hold any security. There is no guarantee that the information is complete or timely. Past performance is no guarantee of future results. Investing in an index is not possible. Investing involves risk, including the possible loss of principal and fluctuation of value. Please visit touchstoneinvestments.com for performance information current to the most recent month-end.
Please consider the investment objectives, risks, charges and expenses of the fund carefully before investing. The prospectus and the summary prospectus contain this and other information about the Fund. To obtain a prospectus or a summary prospectus, contact your financial professional or download and/or request one on the resources section or call Touchstone at 800-638-8194. Please read the prospectus and/or summary prospectus carefully before investing.
Touchstone Funds are distributed by Touchstone Securities, Inc.*
*A registered broker-dealer and member FINRA/SIPC.

Not FDIC Insured | No Bank Guarantee | May Lose Value