Credit Risk
Corporate bonds have a higher yield than duration-equivalent Treasuries, mainly to compensate investors for default risk. This difference in yield, termed the credit spread, fluctuates over time. Credit risk refers to the risk of rising (or widening) credit spreads. In the following pages we broadly evaluate credit spread drivers to help gauge where the opportunity lies across the quality spectrum.
Conclusion: Much has changed in a short period of time. We have gone from late cycle conditions to early cycle, something that typically takes at least a year to transpire. High yield spreads initially widened dramatically providing an attractive entry point. Spreads have since begun to narrow, and continue to do so, removing some of the potential upside for taking credit risk. Still, we believe the meager yield on investment grade securities is likely to push investors further out the credit spectrum to find better yields, spurring further gains in below investment grade securities.
Financial Conditions
Financial conditions refers to how easy or difficult it is to access credit. We look at a number of indicators including monetary policy, lending surveys, financial condition indexes, and rating agency upgrades and downgrades. Tighter financial conditions historically have been accompanied by a widening in high yield spreads, as can be seen in the chart below.
The financial conditions picture has begun to improve. The default rate is coming in below expectations and the ratings upgrade to downgrade ratio is moving back toward 1. Additionally indexes that measure financial conditions such as those compiled by Bloomberg, Goldman Sachs, and the Chicago Federal Reserve Bank have all returned to expansionary levels.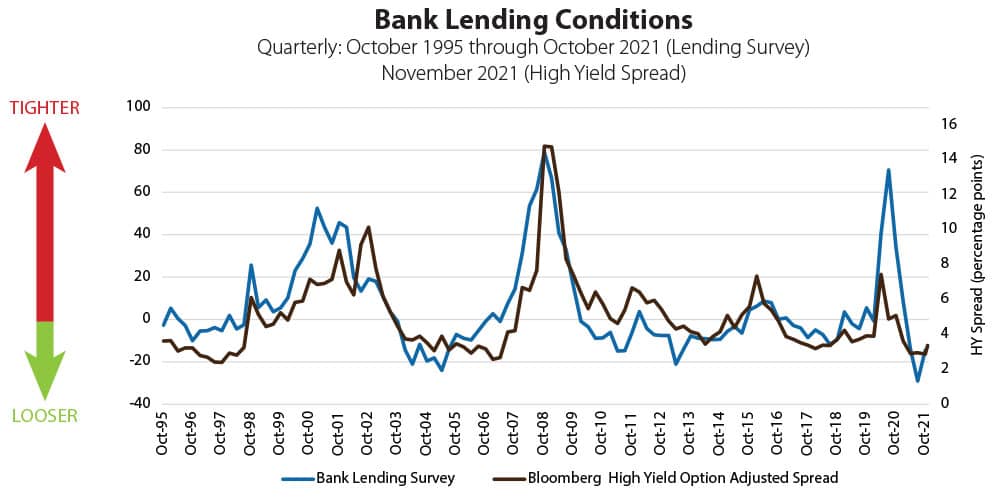 Sources: Bloomberg Barclays, Federal Reserve
Degree of Speculation
The degree of speculation built up during an expansion can significantly compound the subsequent decline. It can also cause the universe to be more vulnerable to economic weakness and/or tighter financial conditions. We evaluate three broad areas: credit issuance, quality of debt outstanding, and debt coverage. We have seen some modest improvement in all three of these factors.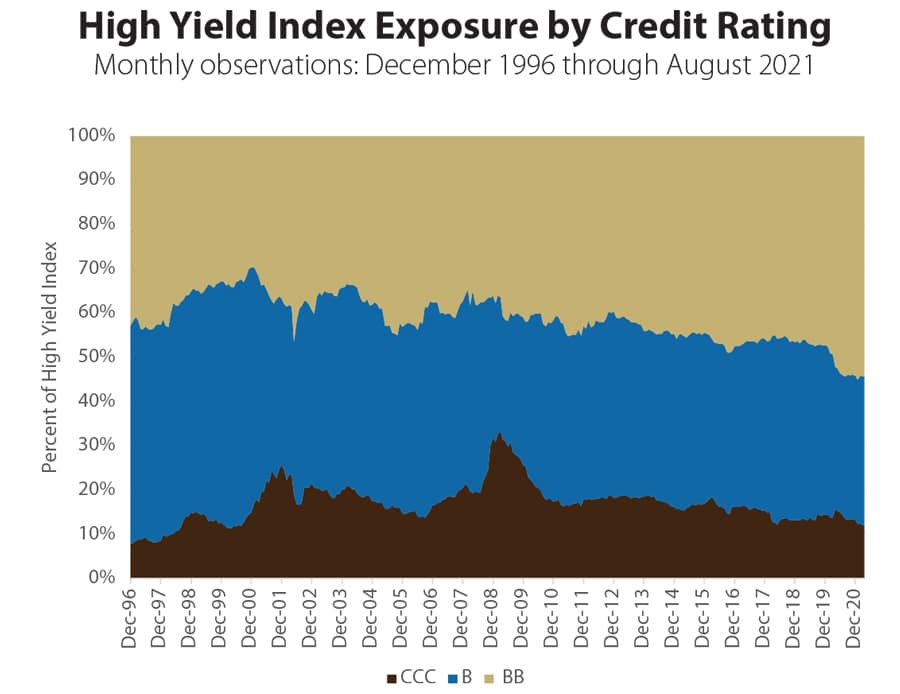 *Generally, CCC and lower rated bonds are considered speculative and are at a greater risk of default than all other credit ratings.
Source: Bloomberg Barclays, Federal Reserve
Issuance: To date, high yield bond issuance has been strong, surpassing levels seen in past years through November. Leveraged loan issuance, though, remained low. While the Fed is willing to buy high yield bonds, it has avoided leverage loans as it does not want to appear to be propping up private equity firms.
Quality: Quality deteriorated through the last cycle as demand for higher yielding debt outstripped supply allowing borrowers to set more favorable terms. That said, exposure to the lowest rung of credit quality never got extended as seen in past cycles. Additionally recent fallen angles (investment grade bonds downgraded into high yield) have increased the overall quality of the high yield market. Similarly, defaults have taken some of the weakest credits out of the index.
Coverage: Leverage and coverage ratios deteriorated over the last cycle. Through defaults these ratios should improve, though it is difficult to speculate how much at this time.
Economic Cycle
Credit spreads tend to narrow as the economy expands and widen as the economy contracts. While the magnitude of this downturn is unprecedented, it is likely to be one of the shortest on record. We believe we are in the early stages of a recovery as the economy reopens. The chart below compares the NY Federal Reserve's Weekly Economic Index (WEI) with GDP. The WEI is an index of ten daily and weekly indicators of real economic activity, scaled to align with the four-quarter nominal GDP growth rate. You can find periodic updates to this Index on the New York Federal Reserve website.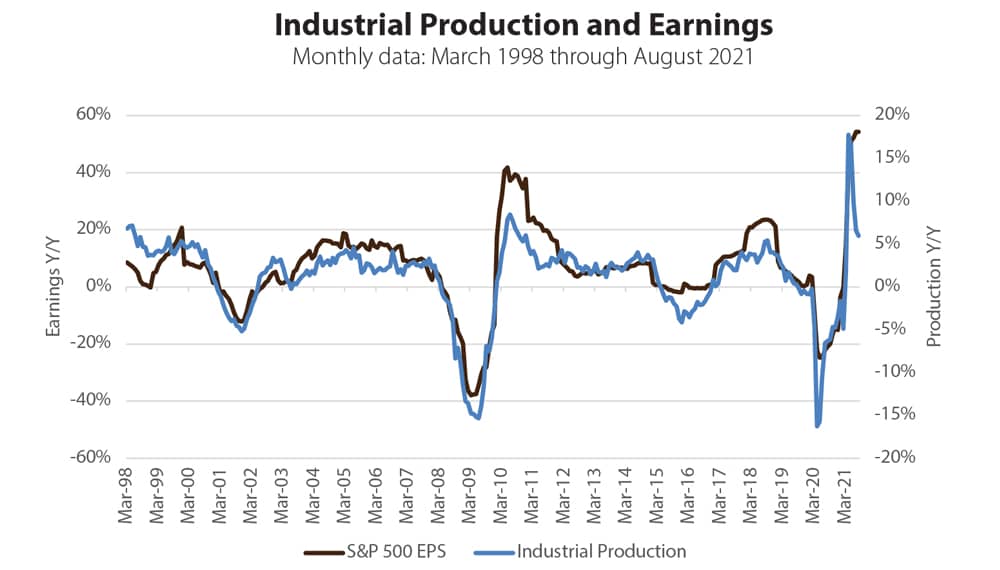 Sources: Bloomberg, U.S. Bureau of Labor Statistics
Relative Valuation
The previous three sections covered fundamental considerations with respect to lending conditions, the economic backdrop, and the amount and quality of debt outstanding. We believe that the current valuation of debt (as measured by the credit spread) should be at least reflective of the underlying fundamentals to appropriately compensate investors for taking on additional credit risk.
In a very short period of time high yield credit spreads widened dramatically and then have pulled back to below the historical average. Given how rapidly the markets are moving, it is important to understand where spreads are currently before making an investment decision. We believe that a more selective approach is important given default risk remains, though overall, we believe that very low investment grade yields will continue to push investors into high yield.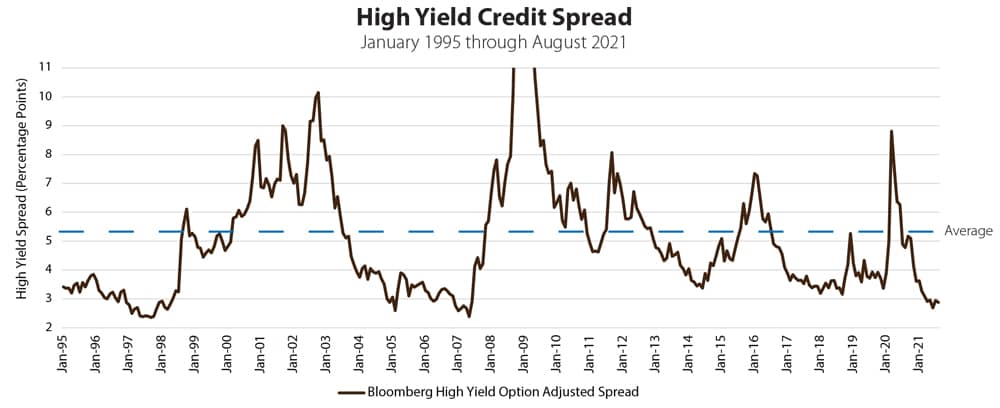 Source: Bloomberg Barclays
Glossary of Investment Terms and Index Definitions
---
This commentary is for informational purposes only and should not be used or construed as an offer to sell, a solicitation of an offer to buy, or a recommendation to buy, sell or hold any security. There is no guarantee that the information is complete or timely. Past performance is no guarantee of future results. Investing in an index is not possible. Investing involves risk, including the possible loss of principal and fluctuation of value. Please visit touchstoneinvestments.com for performance information current to the most recent month-end.
Please consider the investment objectives, risks, charges and expenses of the fund carefully before investing. The prospectus and the summary prospectus contain this and other information about the Fund. To obtain a prospectus or a summary prospectus, contact your financial professional or download and/or request one on the resources section or call Touchstone at 800-638-8194. Please read the prospectus and/or summary prospectus carefully before investing.
Touchstone Funds are distributed by Touchstone Securities, Inc.*
*A registered broker-dealer and member FINRA/SIPC.

Not FDIC Insured | No Bank Guarantee | May Lose Value