Emerging Markets vs. U.S.
We believe equity investors should consider Emerging Market (EM) stock exposure due to the following more secular qualities:
Diversification: portfolios that included Emerging Market stocks have historically produced higher risk-adjusted returns (Bouslama and Ouda).
Relative Economic Growth: Emerging Markets are expected to account for 70% of global economic growth through 2025 with middle class spending growth being the main driver (McKinsey & Co.).
Growing Middle Class: by 2025 Emerging Market consumption will represent approximately half of global consumption (McKinsey & Co).
Equity Market Expansion: Emerging Market equities represent only 12% of global equity market capitalization (Source: MSCI), yet their economies represent approximately 41% of global GDP (Source: International Monetary Fund).
But why now?

Conclusion: Emerging Markets have struggled relative to the S&P 500® in 2019. Much of the underperformance can be attributed to relative earnings underperformance, due to direct and indirect pressures from the tariff war between the U.S. and China. While the Coronavirus clouds the near-term picture, given attractive valuations, that China appears to be on the mend, and with massive stimulus in the works, we remain modestly constructive on emerging markets. That said, we note the risk is high that other emerging market countries could be shutdown from a virus outbreak.

Valuation
Emerging Markets have historically experienced significant price swings, creating large valuation peaks and valleys. Relative to the S&P 500®, Emerging Markets look attractive. On a relative Price/Book basis and on a relative Price/Sales basis, the EM Index is selling below 78% of the historic observations.
The previous valuation lows occurred during the Asian Financial Crisis. Since that crisis, corrective action has taken place across many Emerging Market countries in both the public and private sectors. These actions included stronger regulations, fiscal policy, and capital controls suggesting that those valuation extremes may not be revisited.
On a price-to-trailing-10-year-earnings basis, which smooths earnings cycles, the MSCI Emerging Market Index traded at 13x versus 28x for the S&P 500® (as of February 29, 2020).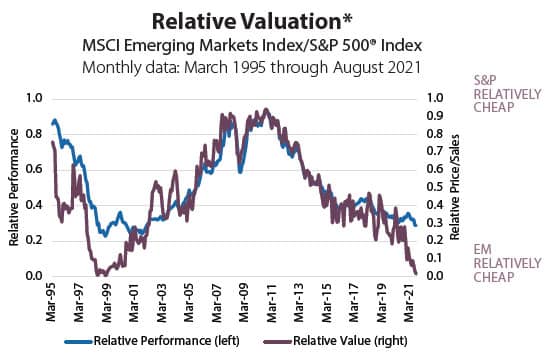 Sources: Bloomberg, MSCI
Relative Earnings Prospects
Relative price performance and relative earnings growth have historically followed similar paths. S&P 500® Index earnings have been outpacing MSCI Emerging Markets Index earnings since 2008, helping explain S&P 500® Index outperformance.
Over the course of 2019 and into 2020, we have seen a massive wave of global monetary, and now fiscal stimulus; the most since the last recession. Yet much of this stimulus has been dormant due to the escalating tariff war and impact of the Coronavirus. When the virus subsides, we expect this stimulus to begin helping emerging markets economies and earnings.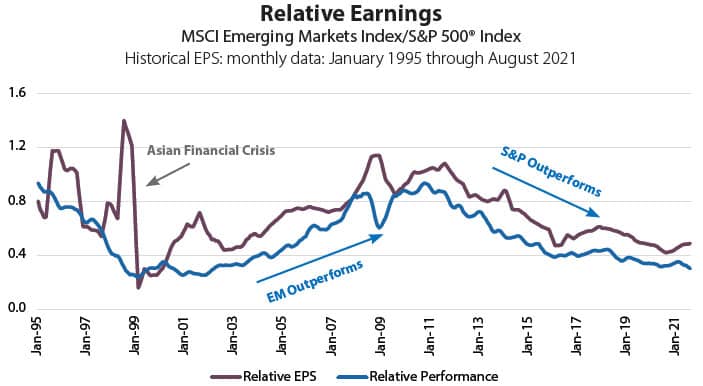 Sources: Bloomberg, Bloomberg Consensus Estimates, MSCI
Trend in EM Currency
The MSCI EM Index is quoted in U.S. Dollars (USD). As such currency shifts between the USD and EM currencies will impact returns directly. Secondarily, EM economies can be negatively influenced when the USD rises due to the higher interest burden on debt issued in USD and potential economic slowing as local interest rates may need to rise to support local currencies. That said, a freely floating currency may act as a steam valve that over time self regulates the economic impact. The degree of economic impact differs by country and is mostly dependent upon how much debt is issued in USD and the importance of external trade with other countries.
Currency analysis is highly complex with short-term, medium-term, and long-term drivers on both sides of the ledger. In general, the medium-term and long-term drivers favor EM currencies over the USD. The near-term picture, though, has grown more mixed due to increased tariffs and changes in monetary policy in the U.S. and most EM countries.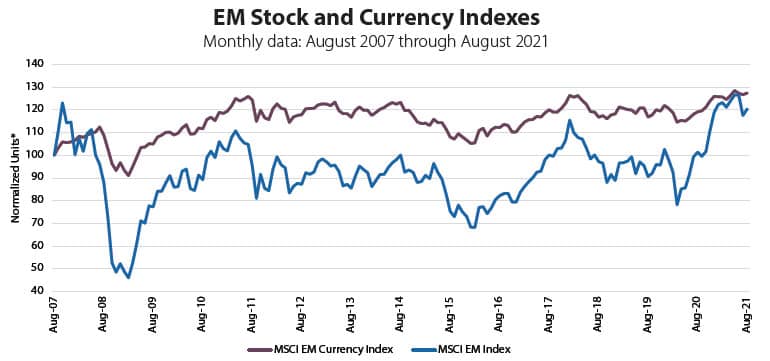 Source: MSCI
*Normalization adjusts or rescales the values of different time series to a notionally common scale to allow for comparability.
Emerging Markets Middle Class Growth
Looking back, the Emerging Markets story has been one that has mainly surrounded the massive industrialization and urbanization of China. Looking forward, we see the story expanding beyond China as high manufacturing wages push labor intensive, low margin factory production out of China and into other emerging markets. This process allows the labor force in other emerging markets to enter the middle class. We are seeing evidence that the U.S. tariff war with China is accelerating this process with numerous countries benefiting, including India, Vietnam, and Mexico.
As can be seen in the chart below, we are in the very early stages of this trend. Middle class growth in Emerging Markets is expected to exceed 6% annually versus less than 1% for the developed markets (Source: Brookings).
Brookings estimates that total middle class spending will increase from $35 trillion in 2016 to $64 trillion in 2030 with over 80% of the incremental spending coming from Emerging Markets. This implies a sum total of $174 trillion to be spent over that period by emerging middle class consumers assuming a straight line progression from a $35 trillion annual rate to $64 trillion.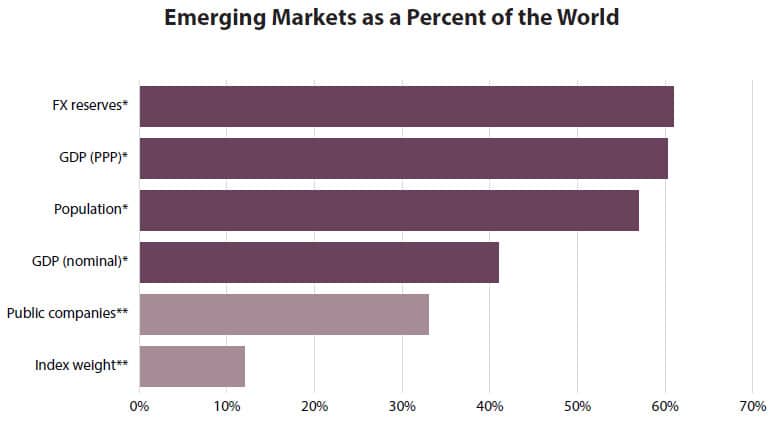 Source: OECD – The Emerging Middle Class in Developing Countries
Emerging Markets Perspective
Emerging Markets equities are under represented in a global context given their relative size by other measures.

Sources: *International Monetary Fund (IMF) (2017), **MSCI (February 2020)
Glossary of Investment Terms and Index Definitions
---
This commentary is for informational purposes only and should not be used or construed as an offer to sell, a solicitation of an offer to buy, or a recommendation to buy, sell or hold any security. There is no guarantee that the information is complete or timely. Past performance is no guarantee of future results. Investing in an index is not possible. Investing involves risk, including the possible loss of principal and fluctuation of value. Please visit touchstoneinvestments.com for performance information current to the most recent month-end.
Please consider the investment objectives, risks, charges and expenses of the fund carefully before investing. The prospectus and the summary prospectus contain this and other information about the Fund. To obtain a prospectus or a summary prospectus, contact your financial advisor or download and/or request one on the resources section or call Touchstone at 800-638-8194. Please read the prospectus and/or summary prospectus carefully before investing.
Touchstone Funds are distributed by Touchstone Securities, Inc.*
*A registered broker-dealer and member FINRA/SIPC.

Not FDIC Insured | No Bank Guarantee | May Lose Value