Credit Risk
Corporate bonds have a higher yield than duration-equivalent Treasuries, mainly to compensate investors for default risk. This difference in yield, termed the credit spread, fluctuates over time. Credit risk refers to the risk of rising (or widening) credit spreads. We broadly evaluate credit spread drivers to help gauge where the opportunity lies across the quality spectrum.
Conclusion: Our analysis suggests that investors should consider increasing credit quality. The credit backdrop is one of a high degree of leverage and lower quality, suggesting big tail risks when this economic cycle begins to turn down. That said, financial conditions remain moderately loose and while we see late cycle economic conditions, we see few signs of an impending recession in the near-term.
Video Transcript
Our views on Credit Risk are based on measuring of financial conditions in the marketplace, the degree of speculation built up during expansion, our perception of the current stage of the economic cycle and measures of relative valuation.
Financial Conditions
Financial conditions refers to how easy or difficult it is to access credit. We look at a number of indicators including monetary policy, lending surveys, financial condition indexes, and rating agency upgrades and downgrades. Tighter financial conditions historically have been accompanied by a widening in high yield spreads, as can be seen in the chart below.
The financial conditions picture remains slightly loose, meaning that borrowers in general have sufficient flexibility with respect to issuing and/or refinancing debt.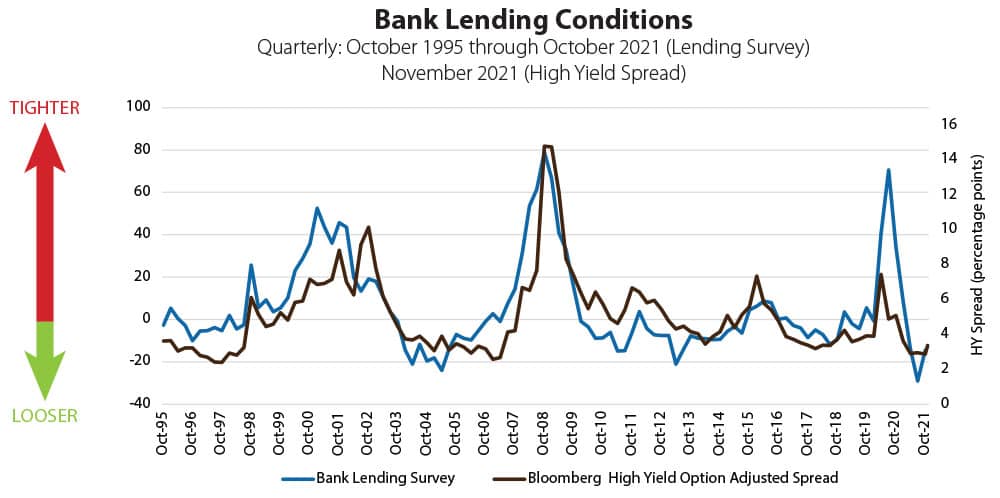 Sources: Bloomberg Barclays, Federal Reserve
Degree of Speculation
The degree of speculation built up during an expansion can significantly compound the subsequent decline. It can also cause the universe to be more vulnerable to economic weakness and/or tighter financial conditions. We evaluate three broad areas: credit issuance, quality of debt outstanding, and debt coverage. All three of these factors are suggestive of much wider spreads.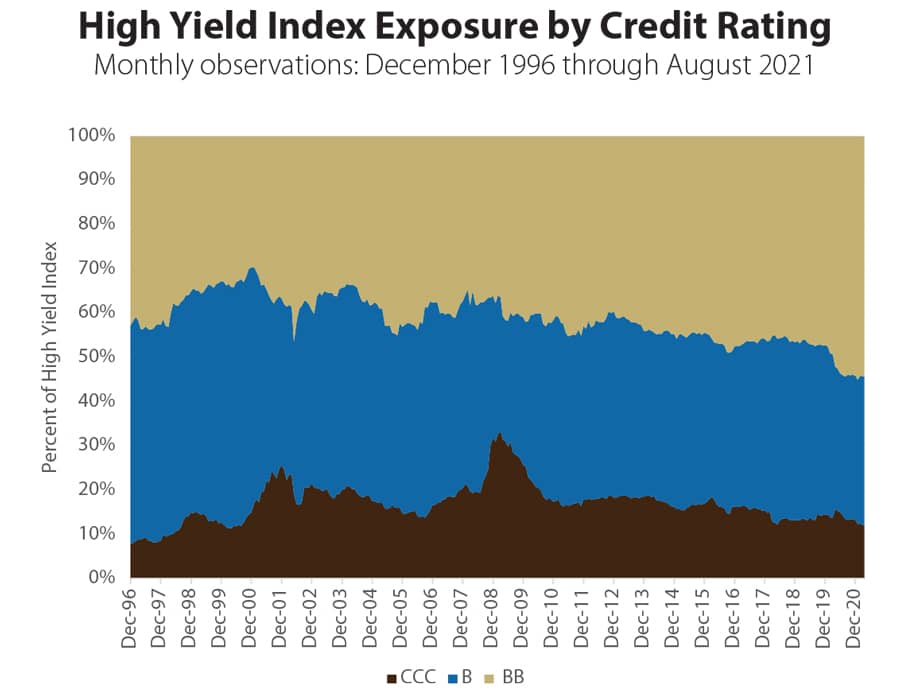 Source: Bloomberg Barclays
Issuance: High yield issuance has been strong in this economic cycle, reflective of sustained lower interest rates throughout this cycle. Both leveraged loans (aka floating rate or bank loans) and fixed-rate high yield bonds have contributed.
Quality: Issuance quality has deteriorated. We are seeing covenant erosion for fixed and floating rate high yield bonds and, according to Moody's, quality continues to worsen as credit spreads tighten and investors search for yield. Moody's has also noted that covenant protections have grown steadily weaker in each of the seven risk categories it evaluates.
Coverage: Leverage and coverage ratios have become weaker. The decline in coverage ratios has not been accompanied by wider spreads that were seen in past cycles.
Economic Cycle
Credit spreads tend to narrow as the economy expands and widen as the economy contracts. Most of our indicators suggest that we are in the later stages of this economic cycle. That said, we do acknowledge that this cycle has been extended due to fiscal stimulus measures and now the Fed has shifted toward a more dovish posture, which is likely to extend this cycle.
One of the most reliable recessionary signals has been the Treasury yield curve. Historically every recession since the 1950s has been preceded by a yield curve inversion (shorter-term Treasuries yield more than longer-term Treasuries). We saw a brief yield curve inversion between 10-year and 2-year Treasury yields, though not for a long enough period to raise concern of an impending recession. The yield curve remains very flat, consistent with late cycle conditions.
Other factors that influence this signal include the year-over-year change in the S&P 500® Index, the unemployment rate and the Leading Economic Index (LEI). All three of these continue to signal further economic expansion. The unemployment rate typically reverses its downward trend prior to the onset of recession. Assuming we are at full employment and the economy continues to expand, this signal is at risk of turning negative sometime in the not too distant future.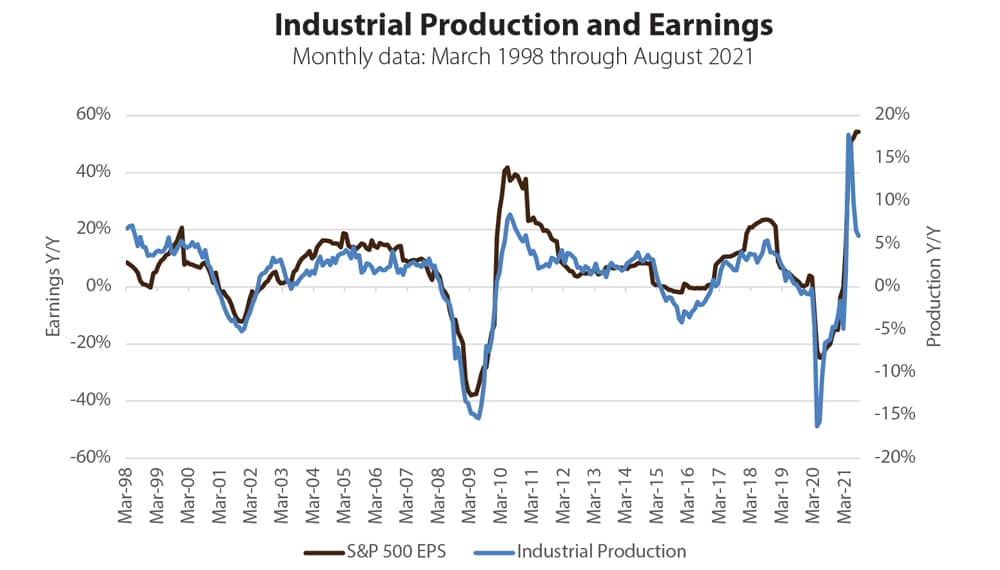 Sources: Bloomberg, U.S. Bureau of Labor Statistics
Relative Valuation
The previous three charts covered fundamental considerations with respect to lending conditions, the economic backdrop, and the amount and quality of debt outstanding. We believe that the current valuation of debt (as measured by the credit spread) should be at least reflective of the underlying fundamentals to appropriately compensate investors for taking on additional credit risk.
Currently, high yield spreads are tighter than average, which is suggestive of above average fundamentals. With the exception of lending conditions, our evaluation of the fundamentals does not support current below-average valuations. In other words, we don't believe that investors are being appropriately compensated for current late cycle conditions, a high degree of leverage, and diminished lender protections. Therefore, we would recommend a reduced allocation to credit risk.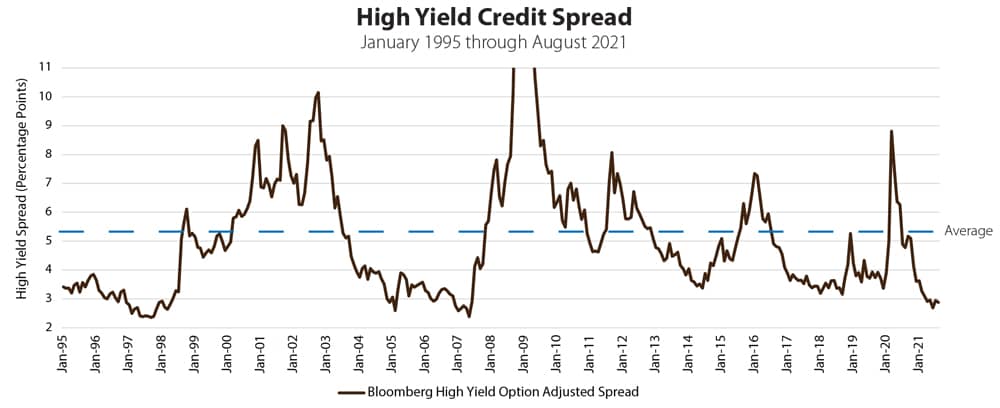 Source: Bloomberg Barclays
Glossary of Investment Terms and Index Definitions
---
This commentary is for informational purposes only and should not be used or construed as an offer to sell, a solicitation of an offer to buy, or a recommendation to buy, sell or hold any security. There is no guarantee that the information is complete or timely. Past performance is no guarantee of future results. Investing in an index is not possible. Investing involves risk, including the possible loss of principal and fluctuation of value. Please visit touchstoneinvestments.com for performance information current to the most recent month-end.
Please consider the investment objectives, risks, charges and expenses of the fund carefully before investing. The prospectus and the summary prospectus contain this and other information about the Fund. To obtain a prospectus or a summary prospectus, contact your financial advisor or download and/or request one on the resources section or call Touchstone at 800-638-8194. Please read the prospectus and/or summary prospectus carefully before investing.
Touchstone Funds are distributed by Touchstone Securities, Inc.*
*A registered broker-dealer and member FINRA/SIPC.

Not FDIC Insured | No Bank Guarantee | May Lose Value