Table of Contents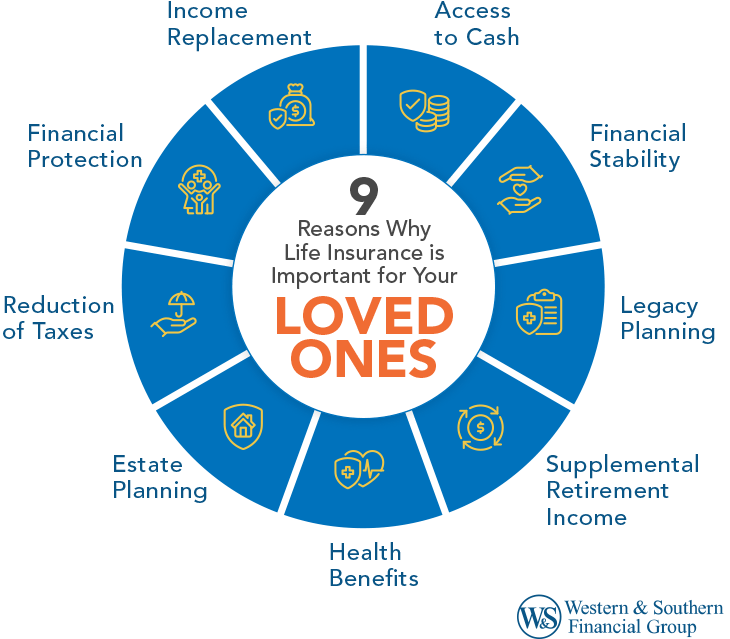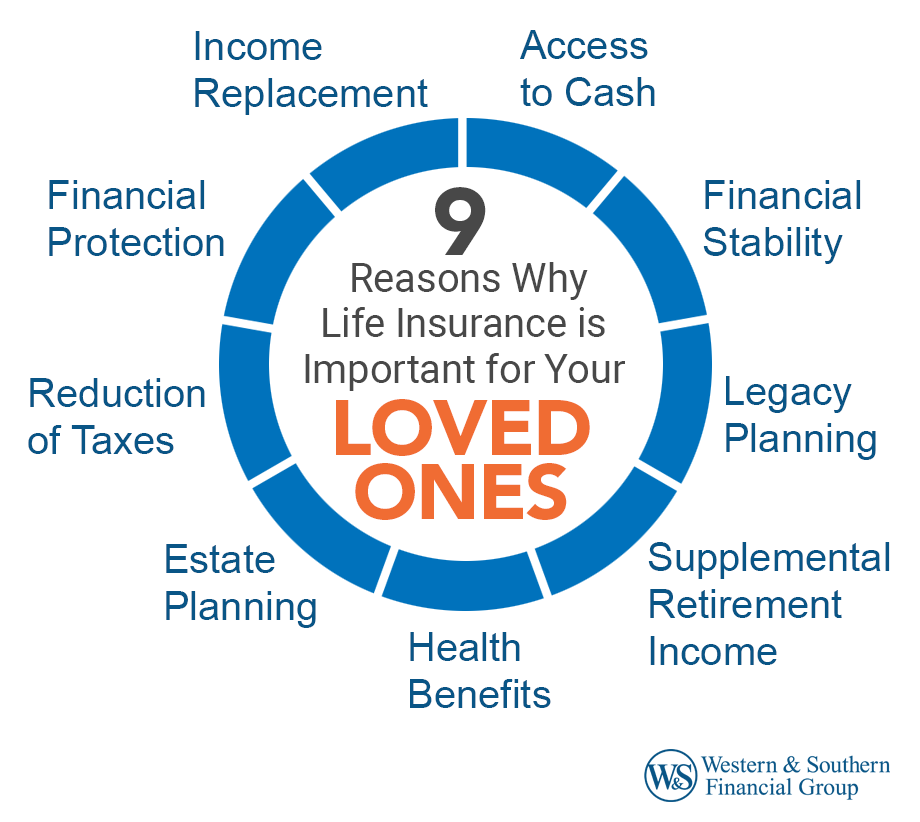 Key Takeaways
Life insurance helps protects your family's future, covering expenses such as medical bills, funeral costs, debts, mortgage payments, and tuition.
Life insurance replaces income for your family in the event of your death, ensuring their financial stability and preventing immediate hardship.
Some types of life insurance accumulate cash value over time, offering access to funds for temporary financial needs or unexpected expenses.
Life insurance can help brings peace of mind by providing financial stability during difficult times, such as covering funeral costs and immediate expenses.
Life insurance can be used for legacy planning, leaving a financial inheritance for loved ones, or supporting charitable causes.
Understanding the benefits of life insurance can help you plan for your family's long-term financial needs. Here are nine reasons why life insurance is important.
1. Financial Protection
Life insurance is meant to help protect your family's financial future. Buying a life insurance policy helps secure your family's financial stability if you pass and could help mitigate the stress and burden of an already difficult time. Even if you have savings, it's unlikely that it would be enough to cover your family's expenses for several years or even decades if something happens to you unexpectedly.
Typically, there are several types of life insurance options to consider: term life insurance, whole life insurance, and universal life insurance. Death benefits are usually paid in a lump sum payment. This money can cover expenses like medical bills, end-of-life costs, outstanding debts, mortgage payments, health insurance, and tuition.
At least three in four American adults indicated they own some type of life insurance; however, women (22%) are twice as likely as men (11%) to not have any life insurance.1
Certain types of debt don't go away when you die, which means your loved ones may have to use money from your estate or sell off other assets to cover financial obligations. This could leave less money to pay for expenses. At a time when your loved ones are already dealing with your loss, life insurance can help ease some of the financial burdens they may experience from lost income after your passing and help provide a financial safety net.
2. Income Replacement
Whether you have a 9-to-5 job, are self-employed, or own a small business, your current income might cover a portion or all of your family's daily needs. Housing, food, utilities, clothing, car maintenance, outstanding loans, and health care premiums are likely all part of your monthly budget.
If you were to die unexpectedly, your other family members would still need to cover these ongoing household expenses even without your income. The life insurance death benefit can help replace income and ensure financial stability for your loved ones after you are no longer there to provide for them.
44% responded that it would take less than six months to experience financial hardship if the primary wage earner passed away.2
When considering buying life insurance, you may consider using a life insurance calculator to help you determine how much life insurance coverage you need.
3. Access to Cash
Some types of permanent life insurance, like whole life insurance and universal life insurance, offer you the added benefit of a cash value component. As you pay your life insurance policy premiums, the life insurance company invests this money, allowing you to build cash value in the policy over time.
In the future, this cash value can be available to you through policy loans and withdrawals to take care of temporary financial needs or unexpected expenses, like a major car repair. However, remember that withdrawing funds from your cash value will reduce the amount of your future death benefit, affecting how much money your beneficiaries would receive upon your death.
Building cash value in a permanent life insurance policy is one way to create an extra emergency fund, offering you additional financial security, knowing that you can withdraw or borrow your cash value whenever needed.
4. Financial Stability
One of the most important benefits of life insurance is that it can help provide greater peace of mind, knowing that your loved ones will be taken care of in case of untimely death. For example, funerals can be expensive. Dealing with this financial stress can add to the emotional strain your family might experience.
Your family could use some of the death benefit from your life insurance policy to help pay for these funeral expenses. The policy's beneficiary could direct some of the death benefits to the funeral home for final expenses, or they can pay out-of-pocket and use the death benefit as reimbursement for these expenses.
You may rest easier by feeling secure in the knowledge that your family won't face financial hardship by relying on the death benefit that life insurance provides.
5. Legacy Planning
Many people choose to use life insurance to leave a legacy for their loved ones or their favorite charitable cause. When selecting your life insurance beneficiary, consider to whom or what you want to leave your death benefit.
For example, if you have children, life insurance can help your family pay for future childcare and education expenses, especially for college tuition. Even if you've already started contributing to a 529 college savings plan, the death benefit from a life insurance policy can provide additional money to help cover your children's education if you were to die.
You also may choose to leave a legacy through charitable giving by naming a religious, arts, or charitable organization as your beneficiary. In addition, you may decide to donate your life insurance policy directly to the charity or allow the charity to purchase a policy on your life and make annual tax-deductible contributions to the charity to cover the policy's premiums.
6. Supplemental Retirement Income
Life insurance can also supplement your retirement income in a couple of ways. Permanent life insurance policies (either whole life policy or universal life policy) allow you to build up cash value, which you can borrow against and use as a supplemental source of retirement income.
You also have the option to use the cash value from your policy to buy an annuity, allowing you to contribute money in a tax-deferred account that can distribute regular payments to you as an ongoing stream of retirement income.
7. Health Benefits
Life insurance riders, which can offer essential health benefits, are add-ons to a life insurance policy, allowing you to personalize your life insurance companies coverage. Various riders can provide you with financial support in case of serious illness or disability or the need for long-term care. These additional protections, however, will increase your premium in many cases.
8. Estate Planning
Another reason why life insurance is important for your loved ones is related to estate planning. You can use life insurance as an estate planning tool to help plan for your heirs to have sufficient liquidity (i.e., cash on hand) after you die to pay any necessary estate taxes and final expenses.
Because liquidating estate assets is time-consuming, the death benefit from life insurance can be used for faster payouts to cover funeral and burial costs, medical bills, and outstanding debts and taxes. It can also help equalize estate inheritance if one heir receives real estate and another receives cash.
As a life insurance policy owner, you can decide how the policy's death benefit should be used. People can use their life insurance policies death benefits for a variety of estate planning purposes: to continue financially supporting an aging parent or a child with a disability, pay alimony, or make child support payments. Proceeds from life insurance can also fund a trust for another purpose.
9. Reduction of Taxes
Life insurance policies can offer certain tax advantages. First, the life policy death benefit is generally paid out to your beneficiary free of income tax. Consequently, a sizeable death benefit will avoid a hefty payment of income tax.
By contrast, most retirement plan proceeds received by beneficiaries will typically be taxed by the IRS. And while life insurance death benefits are generally exempt from income tax, they are not usually exempt from federal estate tax. However, you can establish an irrevocable life insurance trust (ILIT), which can exclude life insurance proceeds from the taxable estate and transfer the death benefit immediately to beneficiaries.
The second tax advantage to keep in mind is that the total cash value for a permanent life insurance policy (i.e., whole or universal life) accumulates tax-deferred. As a result, your cash value nest egg will grow faster because money is not being taken out for taxes. In addition, when you access money from your cash value, you can generally withdraw an amount equal to what you have paid in premium payments without paying any taxes.
For more information about the tax advantages of life insurance regarding your specific life situation, be sure to consult with your tax accountant and/or financial advisor.
Conclusion
There are numerous benefits of buying life insurance for you to consider. Depending on your financial goals and needs, buying life insurance coverage could be an essential part of helping to protect the financial security of your loved ones. To receive more information on how to buy life insurance that's right for you, consider speaking with a life insurance agent or financial professional.
Frequently Asked Questions
When should you get life insurance?​

Deciding on employer-provided life insurance or private insurance may be your first consideration. Other important factors to consider when purchasing insurance are the size of your family, your spouse's income, life insurance needs, your ability to pay premiums, and whether or not you will have dependents in retirement. Review these

key considerations to help you decide when to get life insurance

.
How much life insurance do I need?

Determining how much coverage you need depends on various factors, including your family size, age, income, debt, and future goals. Different rules of thumb can help you arrive at a specific coverage amount. Working through a series of logical steps can

help you decide how much life insurance you need

at this point in your life. A life insurance calculator is an excellent way to estimate your required insurance.
How do you choose life insurance?

Educating yourself and getting helpful expertise from financial professionals can make purchasing life insurance less daunting. Understanding the various life insurance options available, such as whole life insurance, universal life insurance, term life insurance, and variable life insurance, is critical.

Aligning your financial goals with your lifestyle plans can help identify the right life insurance company and strategy to help ease the financial burden for those you love. These five steps can get you started to better understand your life insurance options and help you choose what may be best for your current situation in life.
What is the concept of Human Life Value in life insurance?

The "Human Life Value" (HLV) concept pertains to life insurance and financial planning. It represents a person's value in terms of their financial contribution to their family or dependents. In other words, if that person were to die suddenly, the HLV would estimate the financial loss that their family would incur.

This concept can be beneficial for those determining how much life insurance they should purchase to provide financial support to ensure their family's financial stability in the event of their untimely death.
Live More & Worry Less
We have financial professionals ready to assist you on your life insurance journey.
Sources
2022 Insurance Barometer Study Reveals the Secret to Financial Security is Owning Life Insurance. https://www.forbes.com/advisor/life-insurance/life-insurance-statistics/#americans-drafting-wills
Life Insurance Statistics, Data and Industry Trends 2023. https://lifehappens.org/press/2022-insurance-barometer-study-reveals-the-secret-to-financial-security-is-owning-life-insurance/